Foods Unite for Med Diet Promo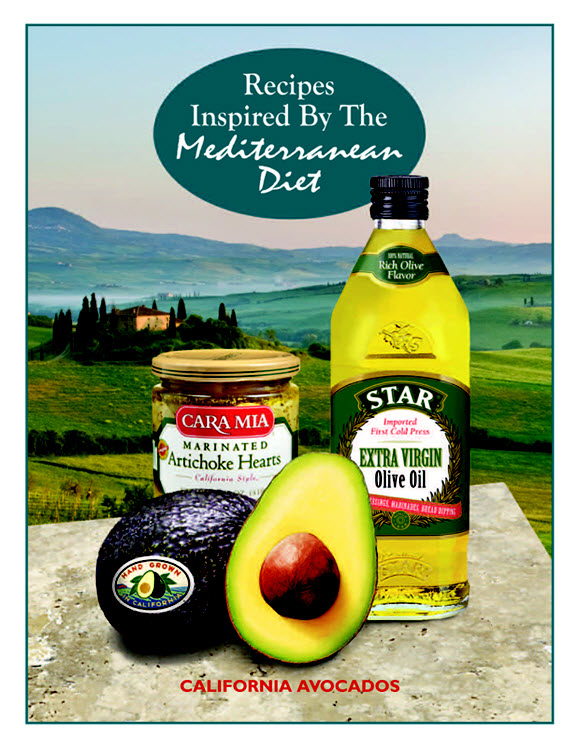 The Mediterranean Diet, which features fresh fruits and vegetables, beans and nuts, whole grains, fish, olive oil and select other foods, is the theme of a co-marketing promotion with California avocados, Star olive oil and Cara Mia artichoke hearts. The program encompasses on-pack coupons and usage ideas, a free recipe booklet, and online and social media marketing.
The California Avocado Commission (CAC) developed the Med Diet-themed promotion with partner products Cara Mia and Star, which also fit within the diet's criteria, to expand consumer reach and stimulate cross-department merchandising.
Neckringers on Star olive oil and Cara Mia artichokes hit shelves in a national retailer's western-region stores in July and August. Both provide joint-product usage tips, and the Cara Mia neckringer includes a $1-off coupon for the purchase of California avocados and Cara Mia marinated artichoke hearts.
"Co-marketing with two brands that fit synergistically with California avocados and the Med Diet theme helps us spread consumption-driving avocado nutrition messages," said Jan DeLyser, VP of marketing at Irvine-based CAC. "Cara Mia artichokes are merchandised mainly in the produce department and Star olive oil is merchandised in center store grocery. Our Mediterranean Diet-themed on-pack point-of-sale encourages shoppers in multiple parts of the store to purchase California avocados."
The brands created Med Diet-inspired joint recipes that are available in a free booklet. The booklet, which can be found at CaliforniaAvocado.com/MedDiet, CaraMiaProducts.com/MedDiet and StarFineFoods.com/MedDiet, is being promoted online and via e-mail newsletters by all three brands. Social media posts on Facebook and Twitter additionally clue fans in on the produce-laden recipes.
"Online and social media are critical components in today's marketing mix," noted DeLyser. "CAC now has more than 74,000 fans on Facebook, and we are actively engaging with them with promotions, recipe ideas and the nutritional aspects of California avocados."
Included in the promotion is information about "good fats" -- mono and polyunsaturated fats that, when eaten in moderation in place of saturated or trans fats, can help reduce blood cholesterol levels and decrease risk for heart disease. According to the American Heart Association, California avocados and Star olive oil both provide these types of fats.
Oldways, a Boston-based nonprofit, is the developer, through its Mediterranean Food Alliance, of such consumer-friendly health promotion tools as the Med Diet and Med Diet Pyramid.