Food Lion's Personalized Rewards Come to Greensboro, NC
Get great content like this right in your inbox.
Subscribe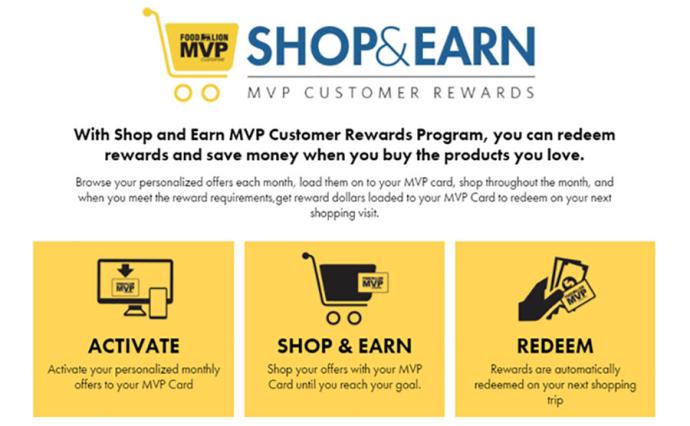 Food Lion is now piloting its new MVP rewards program, Shop & Earn, in the greater Greensboro, N.C., market, where shoppers can enroll through the grocer's website or the new Food Lion Mobile App.
"Through the Shop & Earn MVP Customer Rewards Program, we are offering our customers the opportunity to save an average of $20, or more, each month in our stores in categories they are already shopping in," noted Food Lion VP of Marketing Deborah Sabo. "The more our customers shop at Food Lion, the more they will save. We believe our customers will find tremendous value through these personalized offers based on their shopping behavior."
The program has rolled out to Greensboro after a successful pilot in the Raleigh, N.C., market earlier this year. Based on customer response and participation, it will possibly be made available to all Food Lion stores in the future, according to the company
After enrolling in the program, participants can shop their offers with a MVP card until they reach their goal, tracking their progress online or via the app. Rewards are instantly loaded to the MVP card, and are automatically redeemed on the next shopping trip. As well as viewing personalized offers and rewards earnings, customers can load digital coupons to their MVP cards.
Under the program, new offers will be made available the first of each month. Shoppers can begin earning rewards on the day an offer is loaded, and will have until the last day of the month to earn a reward offer. Earned rewards have until the end of the following month to be redeemed.
Recent loyalty programs introduced by grocers include Hannaford Supermarkets' all-digital My Hannaford Rewards, featuring the chain's first-ever app.
Salisbury, N.C.-based Food Lion has more than 1,000 stores in 10 Southeastern and Mid-Atlantic states and employs more than 63,000 associates. The banner is a company of Delhaize America, a U.S. division of Zaandam, Netherlands-based Royal Ahold Delhaize Group.