Food Lion Customers Receive Scholarships at CIAA Tournament 2011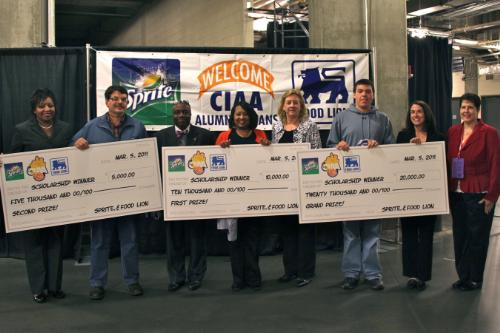 Ryan Gatewood of Blacksburg, Va., was the grand-prize winner of a $20,000 scholarship presented March 5 during halftime of the Central Intercollegiate Athletic Association (CIAA) Men's Championship game in Charlotte, N.C.
Gatewood was one of 12 finalists who took part in the Food Lion-Sprite Scholarship Sweepstakes, an in-store promotion that ran in January. Prizes included a VIP trip to the CIAA Tournament and a shot at winning $35,000 in CIAA Scholarships. The Salisbury, N.C.- based grocery chain and the Coca-Cola Co. soft drink brand hosted the finalists during the CIAA tournament weekend, summoning all 12 to the playing floor to reveal the winners.
The first-prize winner of a $10,000 scholarship was Sheila Womble of Charlotte, N.C., while $5 Bill Hahn of Newport News, Va., received the second-prize $5,000 scholarship. Additionally, $500 and $250 gift cards went to Montina Lee of Goose Creek, S.C., and Sue Giles of Linden, N.C., respectively.
Food Lion has been an Official Corporate Partner of the CIAA, a Hampton, Va.-based National Collegiate Athletic Association (NCAA) Division II athletic conference consisting mainly of historically African-American institutions of higher education, for more than 17 years. During that time, the grocer has provided scholarships to deserving students at association schools, and was also the title sponsor of the 2011 Food Lion CIAA Women's Basketball Tournament, won this year by Shaw University in Raleigh, N.C.
A division of Belgian food conglomerate Delhaize Group, the Food Lion family operates more than 1,300 supermarkets, either directly or through affiliated entities, under the names of Food Lion, Bloom, Harveys or Reid's, and employs about 74,000 associates in 11 Southeast and Mid-Atlantic states.