In Food Industry CSR, Hunger and Health Stand Out
Get great content like this right in your inbox.
Subscribe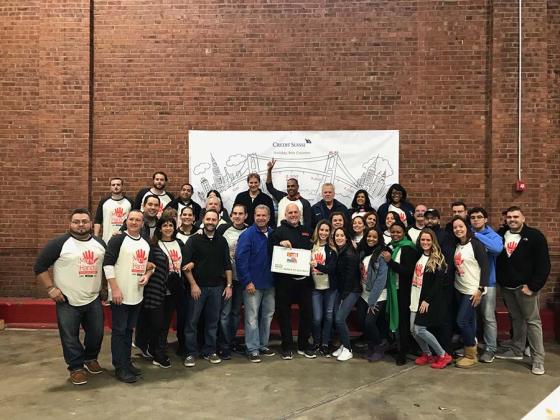 Unsurprisingly, "the most prominent and obviously well-aligned cause you see in [food industry corporate social responsibility] campaigns is hunger," observes Megan Strand, director of communications at Rye, N.Y.-based Engage for Good, which provides best practices, tips and trends for organizations that want to engage consumers and/or employees on social issues. "Savvy retailers understand the importance of making that focus on hunger … a local one, so that donations generated flow directly to the surrounding community."
Examples of this include an annual program that White Plains, N.Y.-based independent grocery wholesaler Krasdale Foods ran this past May, Shop to Feed the Kids, while a second yearly initiative, Shop to Give, is slated for November, with all proceeds going to City Harvest hunger-relief efforts in the New York metropolitan area served by Krasdale.
"The programs are further supported via our vendor partnerships, with 10 CPG brands coming together to support the cause," explains Dylana Silver, Krasdale's director of marketing. "Lastly, our store owners also gave to the cause, making it a truly collaborative effort to give back to the communities we serve."

Continues Silver: "To bring the initiative to life in stores, we used custom point-of-sale materials and signage, featured the participating items in the weekly circular, provided shelf talkers and encouraged retailers to build end cap displays with participating brands. In addition, we utilized targeted digital marketing programs like Pandora, geo-fenced mobile ads and social media to raise awareness of our partnership with City Harvest. The response from consumers, store owners and our local community partners was nothing short of overwhelming, and the [2017] campaigns generated over 10 million impressions throughout the time [they] ran."

As far as Silver is concerned, there's no question that such initiatives are worth doing. "We've found success in programs where we can bring together our entire supply chain to support the same causes," she notes. "Power is in numbers, which is why we will continue to support and grow our CSR programs throughout our entire organization and with our customers, vendors and employees."

 "Another huge cause-focus area for the grocery space" observed by Strand "is childhood health, particularly children's hospitals – again typically focused locally – but you may also see other health causes [such as] cancer research or breast cancer awareness, veterans or military issues, or other social services causes like homelessness."
Turnkey Opportunity
One long-running program in this area is Produce for Kids, originally founded by John Shuman, president of Reidsville, Ga.-based Shuman Produce, in 2002 after his son was hospitalized and he learned how other kids were benefiting from Children's Miracle Network (CMN).
"Having had long-term partnerships with both Meijer and Publix Super Markets, Shuman hired on a marketing consultant to help build an awareness campaign in these stores to showcase the produce companies who partnered to give back to their local community through CMN," recounts Amanda Keefer, director of marketing communications at Orlando, Fla.-based Produce for Kids. "The funds raised stayed local, as they do to this day at Produce for Kids, to the retailer's market." The organization currently works with various retail partners besides the two mentioned above.
Originally, 100 percent of the funds raised in retail campaigns went to the CMN hospitals within a participating retailer's community; now those funds go either to the market area's Feeding America food banks or to a local charity selected by the retailer.
The organization remains involved with child health, however, and not just because Meijer currently provides funds to the Jump with Jill rock-n'-roll school nutrition show in the Midwest.
"We are now not only providing funds to charities that benefit families and children, but also giving back by providing healthy resources to shoppers in these communities," says Keefer. "Many retailers are looking for ways to check their social-responsibility box, and Produce for Kids provides a turnkey opportunity to do so while also providing their shoppers with tools to shop healthier." These tools include recipes; a blog offering advice on making nutritious eating stress-free and fun for families; tips on selecting, preparing and storing produce items; and an online store featuring items to provide mealtime inspiration.
Make it Stick
Meanwhile, the familiar Chiquita Blue Sticker recently turned pink at retail for a cause. "One of our commitments is to increase awareness and fight against cancer," says Jamie Postell, director of sales, North America for Charlotte, N.C.-based Chiquita, noting that the company is focusing on three main areas: funding research to find the cure, bringing awareness to women about breast cancer early detection, and supporting wellbeing and active lifestyle for disease prevention.

"In North America, we are partnering with the American Cancer Society (ASC) and are pleased to be the first brand to have recipes endorsed by the ACS," adds Postell. The awareness-raising pink sticker appeared on Chiquita bananas throughout the month of October.

"In 2018, all our retail partners were able to participate since we utilized our stickers," observed Postell. "One learning we have taken away is to make a bigger impact, you need to be present at the retailers with POS, displays and online to drive more consumer awareness and sales. As for 2019 and beyond, we are planning to partner with retailers to communicate the Chiquita and customer CSR initiatives."