Fishers Foods Launches Rewards Program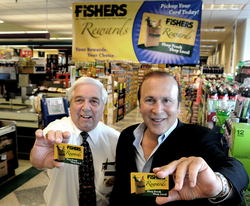 Fishers Foods has rolled out its new Fishers Rewards program, giving shoppers the freedom to redeem their points from a wide assortment of free groceries, gifts, AirTran Airways rewards and gift cards.
The new program from North Canton, Ohio-based Fishers Foods supports its "Shop Fresh, Shop Local" message. "We will use Fishers Rewards to tie to the programs we have always had within our community, along with new and exciting opportunities for schools, churches and other charitable organizations," said Jeff Fisher, president of Fishers Foods.
In addition, Fishers Foods has partnered with Akron Canton Regional Airport and AirTran Airways to promote the local travel hub. Shoppers who register their Fishers Rewards card are entered to win free round-trip tickets on AirTran. Fishers' shoppers can redeem their points for AirTran Airways rewards and Fishers' gift cards as well as other retailers like Borders, Best Buy and iTunes.

The program, powered by Market Basket Rewards, utilizes shopper metrics and targeted marketing techniques to build sales and enable philanthropy.
With seven locations, Fishers Foods has been serving communities of Stark County, Ohio, for more than 75 years.