Fazoli's to Bow 1st Walmart Restaurant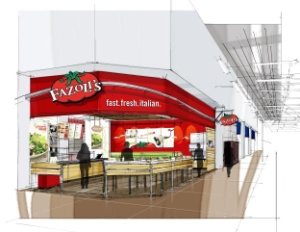 Fazoli's, the United States' largest premium quick-service Italian restaurant, will open a restaurant within a St. Louis Walmart in January 2011. The location will be the first Fazoli's inside a retail store.
The 2,000-square-foot eatery, which will seat about 50 guests, is leasing space in the Walmart Supercenter at 3270 Telegraph Road. In addition to featuring Fazoli's full menu, which includes freshly prepared Italian entrees, Submarinos sandwiches and salads, and carryout, the location will use disposable plates, utensils and glasses as a convenience to shoppers.
"This is an integral step in Fazoli's strategy to develop other nontraditional locations, such as airports and college campuses," noted Carl Howard, president and CEO of the Lexington, Ky.-based restaurant chain, which was acquired by Sun Capital Partners in 2006, currently operates more than 200 units and is expanding in select markets throughout the country.