EXPERT COLUMN: For the Birds
While much of the country faced a record-breaking cold snap earlier this month, sales of wild bird seed are heating up for retailers. Global Harvest Foods, the manufacturer of Audubon Park wild-bird products, saw an increase in demand of 55 percent.
For grocers, seasonality is a huge driver of the sales of wild-bird seed and feed. When temperatures become extreme, consumers become concerned about the ability of wild animals to find food and shelter.
Bird feeding is most helpful at times when birds need the most energy, such as during temperature extremes — especially snow and ice storms — migration, and in late winter or early spring, when natural seed sources are depleted.
Unfledged Opportunity
It's a big market opportunity that many retailers don't realize: 40.5 million U.S. households buy wild-bird seed, according to the Wild Bird Feed Industry Research Foundation's recent study. And during the cold snap that affected much of the country, shoppers were looking to buy it at their local grocery stores.
Grocery stores are the second most popular destination, behind mass merchants, for buying wild bird seed and feeders. While customers are visiting grocery stores to stock up for their families in advance of a storm, they are more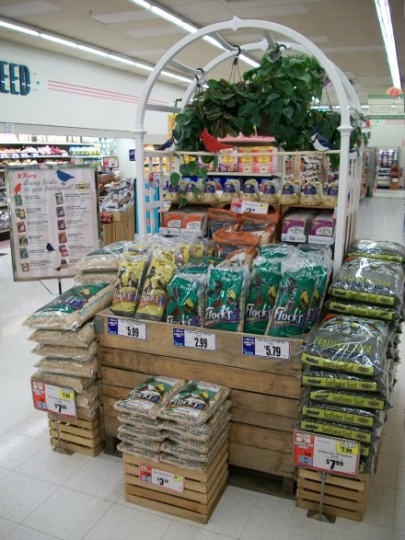 likely to pick up items at the same time for wild birds.
The bottom line: Stock up on wild bird seed in the winter, and consider these tips for marketing wild bird seed to boost sales now and year-round:
Help customers buy the right product by placing educational POP material that directs consumers to the appropriate type of feed for the types of birds they hope to attract.
Place the appropriate types of feeders near the seed that should fill them.
Set up a special display twice a year outside on the sidewalk or inside near the front entrance of the store to reach customers who don't typically travel to your bird seed aisle.
Global Harvest recently sponsored a display contest with Williamsville, N.Y.-based Tops Markets (right). The event was a huge success, resulting in a 20 percent increase in wild-bird food sales during the event.
Upon executing these strategies, grocers can expect to increase their gross profit dollars significantly and capture more of the wild-bird seed market.
Ed Mills is co-founder and president of Seattle-based Global Harvest Foods Ltd., a wild-bird food and small-critter/pet food manufacturer with manufacturing and distribution facilities located throughout the United States. As well as the Audubon Park brand, the company also offers private label products.