Editor's Note: Oh Baby! Carrots Gaining Cred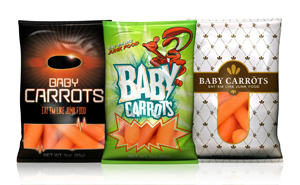 I'm lovin' it. The clever, right-on-time campaign launched earlier this month by an alliance of carrot growers, otherwise known as "A Bunch of Carrot Farmers," that is.
Leading with a tagline that leaves very little to the imagination – "Baby Carrots: Eat 'em like Junk Food" -- the coalition of 50 carrot growers, led by Bolthouse Farms, is behind the effort that has unleashed a bushel of new packaging designs to mimic that of carrots' greasier snack brethren, alongside a multimedia campaign that overtly impersonates junk food advertising tactics.
In addition to "playfully confrontational" outdoor billboards, social media, and customized vending machines that live beside junk food vending machines in schools (more on Del Monte's related presstime vending news a little later), the campaign, created by Boulder, Colo.-based Crispin Porter + Bogusky (CP+B), kicked off in test markets Syracuse, N.Y., and Cincinnati earlier this week. An especially cool element of the effort is the world's first carrot-crunch-powered video game, Xtreme Xrunch Kart -- available as a free download at the iTunes store -- which requires players to crunch real baby carrots into the microphone, triggering a rocket-powered shopping cart to perform gravity-defying tricks.
The $25 million campaign, which will roll out over at least a year's time, takes direct aim at the well-financed snack food industry with billboards that include slogans such as "The original orange doodle" and "Try juicing a cheese puff."
"We feel that with the cultural climate around healthy snacking right now, there's a unique and timely opportunity to do the first-ever consumer-based advertising for carrots," said Jeff Dunn, CEO of Bakersfield, Calif.-based Bolthouse Farms, which tapped CP+B to provide overall strategy, creative leadership, media planning, placement and all related services.
In addition to its standing as a leading carrot grower, processor and marketer, the fourth-generation Bolthouse Farms offers other premium fresh vegetables and fruits in its portfolio, as well as superpremium refrigerated juices, smoothies and protein drinks; all-natural premium refrigerated yogurt dressings; and extra-virgin olive oil vinaigrettes.
"For baby carrots to join the conversation with other snacks, they need a bit of attitude," added Andrew Keller, partner and chief creative officer at CP+B. "Mocking modern snack marketing is a strategic way of creating that attitude."
Check out Baby Carrots' content and more at babycarrots.com.
Meanwhile, back at the vending machine, Coral Gables, Fla.-based Del Monte Fresh Produce N.A. has inked a new deal with VISTAR, a division of Richmond, Va.-based Performance Food Group, the largest vending distributor, to distribute a new fresh fruit and vegetable product line across the country.
Del Monte is opening a new chapter in healthy vending with its specially designed packaged fresh fruits and vegetables, which should appeal to a variety of customers looking for a quick, healthy snack in vending machines.
The Del Monte Fresh Vending line includes whole bananas, pineapple chunks, apple slices, grapes, baby carrots, celery sticks and grape tomatoes. A few options come bundled with low-fat dips. Each item in the Fresh Vending line is all natural and contains 140 calories or fewer. The whole bananas are wrapped using Del Monte's controlled-ripening technology that slows down the ripening process and keeps bananas fresh and yellow for five days. When kept at ambient conditions of 57 degrees to 60 degrees Fahrenheit, Del Monte's fresh-cut fruit and vegetable items can stay fresh for up to seven days.
"VISTAR's industry expertise, experience and nationwide presence will help us accomplish our goal of providing our healthier snack alternatives in vending machines throughout the country," said Dennis Christou, Del Monte Fresh Produce's VP of marketing. "Together, we are committed to fighting the American obesity epidemic, and we are convinced providing fresh fruits and vegetables in vending machines is a great start."
VISTAR has more than 30 years of experience as a nationwide distributor for the vending industry, with 23 distribution centers and 13 cash-and-carries across the country. The company's VP of sales and marketing, Terry Touchton, said the line would help meet the growing need for wholesome and nutritious vending items.
For more information, visit www.freshdelmonte.com or www.fruits.com.