Early Wakefern Co-op Member Dies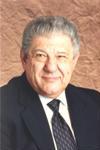 Joseph Saker, founder and chairman of Foodarama Supermarkets (now Saker ShopRites), and an early member of Wakefern Food Corp., died Sept. 23 at the Meridian Nursing Home in Shrewsbury, N.J.  He was 83.
Saker (left) grew up in Freehold, N.J., in the grocery business his grandfather, Lebanese immigrant Wohbe Saker, started there in 1916. Wohbe's son John, and his wife, Mary, Joseph Saker's parents, grew the store into a successful business.
Joseph Saker joined Wakefern Food Corp. in 1947, just one year after the retail cooperative was born, and began operating under the ShopRite banner in 1951. He incorporated the business under the name Foodarama Supermarkets in 1958 and took the company public in 1965.
"He knew he had to reduce costs to be able to compete with the larger chains, and the Wakefern cooperative was a solution for taking costs out of the system," recounted his son, Richard Saker, the current CEO of Saker ShopRites.
Understanding that grocers needed a unified voice to speak to government leaders, Joseph Saker helped create the Trenton-based  New Jersey Food Council, of which he was founding chairman. He also helped start the Academy of Food Marketing and Food Marketing Educational Foundation at St. Joseph's University in Philadelphia, one of the few business programs dedicated to the supermarket industry. Saker was a past chairman and member of the board of governors of the organization.
Joseph Saker retired in 2005. A year later, Richard Saker took the company private and renamed it Saker ShopRites.
Among other industry distinctions, Joseph Saker received an honorary degree in commercial science from St. Joseph's University; was a member of the board of directors, officers and finance committee of Keasbey, N.J.-based Wakefern; and served as a past chairman and former member of the board of directors of the New York State Food Merchants Association.
Saker is survived by his wife, Gloria Tatarinchik; his children and their spouses, Richard and Laura, Nadine and Andrew Mockler, Denise Saker, Lisa Saker, Joseph and Sheri, and Thomas and Kristen; 14 grandchildren; and one great-grandchild.