Diabetic-friendly Meals Bow at Retail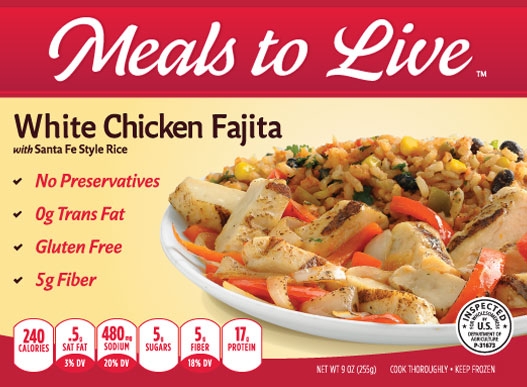 Meals to Live has introduced what it says is the first-ever retail frozen meals line created specifically for people with diabetes. The nutritionally focused line includes such convenient entrees as Chicken Fajita with Santa Fe Rice, Shrimp Jambalaya, and Chili Relleno with Chicken and Ranchero sauce. Additionally, five of the eight meal options are 100 percent gluten-free.
Easy-to-read packaging that clearly displays relevant nutritional information on the front, including fat, sodium and fiber, allows shoppers to see exactly what's in the meals.
"After working with a number of diabetes support groups, I saw firsthand the frustrations these individuals face every day as they try to adhere to certain nutritional requirements, and I was surprised to learn that there is nothing in the grocer's freezer specifically for them," explained Cole Egger, founder and CEO of Dallas-based Meals to Live. "Our meals provide a delicious, convenient alternative while meeting the nutritional needs of those living with diabetes, or anyone looking for flavorful, healthy meals."
Created by Egger and former Dallas Cowboys chef Jeremy Womble, who has type 2 diabetes, the entrees contain from 18 grams to 58 grams of carbohydrates, and are high in fiber and low in saturated fat, trans fat and sodium, which are important considerations for those living with diabetes as well as other consumers. Meals to Live also incorporates whole grains as much as possible.
In addition with frozen entrees, the brand offers Glucose Quick Sticks, an easy-to-carry, quick-dissolving flavored powder that instantly provides a healthy boost of glucose for those who experience low blood sugar.
Meals to Live is now available at 2,000 U.S. retail locations, including select locations of Randall's/Tom Thumb, Raley's, Brookshire's, Ralphs, Sprouts, Publix and Walgreens, among other locations, as well as on online at www.mealstolive.com. SRPs for entrees range from $3.99 to $4.99.
Meals to Live is a sponsor of the Diabetes Friendly Foundation (DFF), a nonprofit organization organized by Egger with the goal of preventing the onset and reducing the severity of diabetes through education, collaboration and the promotion of innovative products and ideas.