Consumers Beginning to Consider Malls as Grocery Destinations
Get great content like this right in your inbox.
Subscribe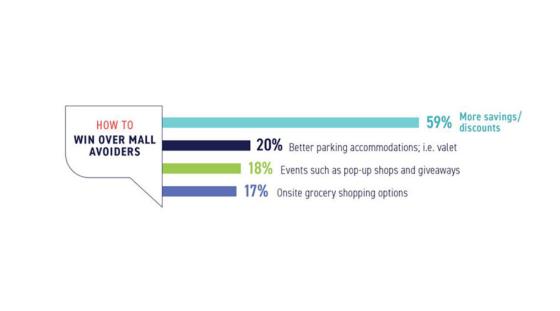 With food retailers increasingly looking to differentiate their shopping experience by opening stores within indoor shopping malls, including Wegmans' recent debut of what it called a "unique" multilevel location within a mall in Natick, Mass., it seems that consumers are increasingly warming to the idea of being able to shop at a supermarket along with such mall staples as Auntie Anne's and Yankee Candle.
According to a survey by Livonia, Mich.-based Valassis of 1,000 U.S. consumers described as "regular mall shoppers" – those who've visited an indoor mall more than three times within the past year – 17 percent of respondents said that they could be encouraged to visit such venues more frequently if they had with on-site grocery shopping options.
 "While the retail industry is certainly being disrupted, brick-and-mortar stores aren't going anywhere," noted Valassis Chief Marketing Officer Curtis Tingle. "However, they do need to evolve to meet modern shoppers' expectations. Consumers want convenience, product options and incentives, and all brick-and-mortar retailers, especially malls, need to understand their audience so they can provide an experience that makes visiting worthwhile."
Now, 17 percent may not sound like a lot, but it does show an emerging awareness on the part of consumers that malls would be attractive places for supermarkets, providing, among other advantages, shelter from inclement weather, easily accessible parking facilities and the ability for locations to expand to several levels and offer a host of exciting features such as in-store restaurants and ample space to hold events.
As Paul Milner, marketing director of Displaydata, a U.K. electronic shelf label provider with U.S. headquarters in Atlanta, told PG last October: "Grocery stores in malls could give Americans the benefit of a one-stop shop for all of their needs — shoppers can get what they want, when they want it, and go home. This transition is another step towards providing shoppers with the advanced and frictionless shopping experience that the American consumer demands."
In common with Valassis, Milner believes that such a move could revitalize indoor shopping centers in the United States. "By creating these hubs for all kinds of shopping, once declining malls can become destinations for people far and wide to complete all of their shopping at once in a unique space, all while contributing positively to the local economy," he noted.
As their counterparts abroad have already done, U.S. supermarkets are taking up residence within indoor shopping malls. Now it appears that their prospective shoppers are getting with the program. That looks to be a win for everyone involved.