Consumer Fees Unrelated to Swipe Fees: Survey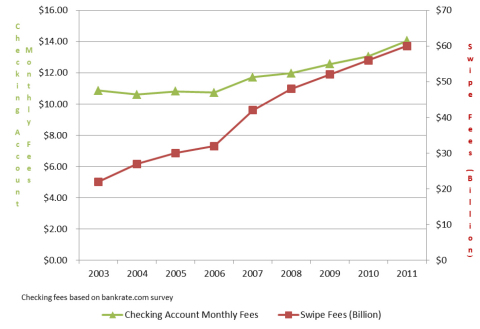 Despite industry claims, the monthly service fees banks charge consumers are not related to debit swipe fees, according to the Merchants Payments Coalition (MPC), which has analyzed new data from moneyrates.com and Bankrate.com.
Since the passage of the Durbin Amendment last October, banks and credit card issuers have said that the newly imposed debit card swipe fee reductions have forced them to raise the fees they charge consumers for services such as checking accounts, but MPC's examination of the data revealed the opposite.
"Swipe fees have tripled over the last decade, but that certainly hasn't resulted in consumer checking fees getting cut by a similar amount," noted Tom Wenning, EVP and general counsel of the Arlington, Va.-based National Grocers Association (NGA), one of the member associations of MPC, a group of retailers, supermarkets, drug stores, convenience stores, fuel stations, online merchants and other businesses working for a more competitive and transparent card system.
In fact, Bankrate.com surveys show that swipe fees and checking account fees have risen in tandem for six consecutive years. From 2005 to 2011, checking fees increased from $11 to $14 on average, while swipe fee revenues ballooned from about $30 billion to $60 billion.
Meanwhile, MPC's analysis of a moneyrates.com survey "found that big banks -- the only ones affected by the Durbin Amendment -- did not raise checking fees as much as the small-sized banks that were exempted from debit reform," added Wenning.
Both the Bankrate.com and moneyrates.com surveys showed that consumer checking fees are unaffected by swipe fee changes, according to MPC, which noted that checking fees have their own competitive market dynamics, while swipe fees are centrally price-fixed by credit card companies.