12/21/2017
Clean Label: Heart of Organics, Future of Retail

We've all heard that healthy natural/organic products are driving sustainable sales across all categories, but what does that really mean, and what are the key drivers, retailers and brands that we should be paying attention to?
Natural and organic products are driving the sustainable growth in mainstream retail. In Progressive Grocer's 2016 Category Management Handbook [find the latest edition here], I shared that in the absence of natural and organic products, category sales are flat or declining across almost every category and every channel.
For example, I said that total dairy was up 1.5 percent, while organic dairy was up 12.1 percent. Organic dairy represented only 9.8 percent of total dairy sales. If you remove organic, total dairy would be up only 0.5 percent. The impact that the small sliver of organic has on total dairy sales is staggering. The story is similar for other categories.  
Global organic sales are $36 billion and growing, up 36 percent from 2012 through 2016. Organic sales represent only 5 percent of total health and wellness, with tremendous potential for growth, which is estimated to be 5.3 percent CAGR over 2016-21. The United States represents about 45 percent of global organic sales, according to a July 2017 Euromonitor International Global Survey, Certified Organic: Opportunities in Food and Beverages.  
Fueling that growth is the fact that, as Euromonitor's survey found, "37 percent of participants are actually looking for organic products when going to the supermarket." They're also looking for "features that were directly linked by them with the definition of organic, which can have an influence on purchasing organic products." Those features are identified as being "free of" or "clean label." Clean-label products are free of chemicals, allergens, synthetic ingredients, etc.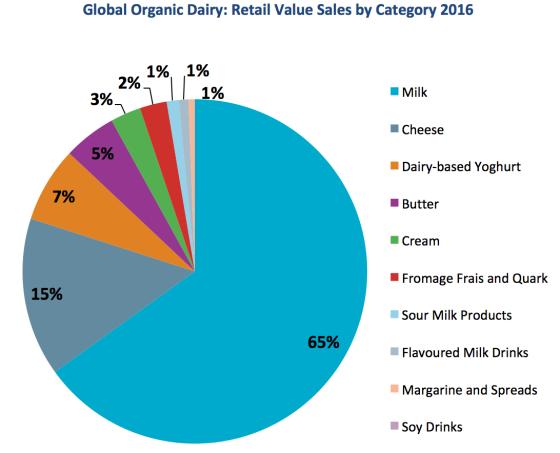 What Does This Mean?
Now that I have your attention, what does this mean, and how can retailers and brands capitalize on these important growth drivers?   
Organic dairy represents 29.5 percent of total organic sales, the largest organic category. Organic milk represents 65 percent of total global organic dairy sales. Organic dairy sales were up 6 percent in 2016, from 11.3 percent in 2014, according to the Euromonitor survey.  
Shoppers want what they want, and they want quality products that they can trust to fully meet the nutritional needs of their families. Organic products offer the trust that consumers are looking for. Products that carry USDA certification are regularly checked and reverified to ensure that they meet the program's strict standards.
Price isn't the key driver. If it were, shoppers would buy only the least expensive item on the shelf. Playing the pricing game continues to erode category profits while you chase sales to the bottom. No one wins in the pricing game.
Conversely, super-premium products, like organics, help drive sustainable category growth. More importantly, the market basket of the organic shopper is much higher than the nonorganic shopper's. Consider this: A shopper who purchases organic bread is more likely also to purchase organic butter, organic jelly, organic milk, etc.
Produce is the gateway to organic in other departments. It's where most shoppers begin to experiment with, and trust in, organic products. Typically, these shoppers are looking for products that are free of pesticides and herbicides. Dairy and the other perimeter categories are the next categories that organic consumers regularly shop. This is partly due to the belief that the healthiest products are found around the perimeter of the store.
Savvy retailers need to develop strategies to leverage perimeter organic products to drive shoppers into center store. Organic product offerings have exploded across every department of the store, providing shoppers with a lot of different choices. The selection is no longer limited. In addition, healthy products now taste great, compared with the natural products of yesteryear.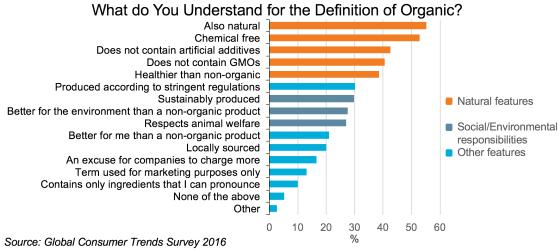 Shopper Education
One of the biggest challenges that  retailers and brands have is in educating shoppers. Most shoppers believe that non-GMO products are healthier than organic. They aren't -- organic is automatically non-GMO by definition. This confusion results in shopper distrust of organic products, causing such items to be overlooked and underappreciated.
Retailers and brands wanting to grow organic sales need to make them easier to shop and less confusing.  This can be accomplished by fully integrating natural and organic products next to their mainstream counterparts, not in a separate section or in a different part of the store.  Retailers need to give shoppers the opportunity to easily compare organic and nonorganic products side by side. Consumers should be able to choose the products that are right for them. This is also how retailers build shopper loyalty, by giving shoppers what they want.
Shoppers who consider the satiety of the product will quickly see that organic products aren't overpriced compared with other items. For example, have you ever eaten inexpensive bread, only to find yourself hungry again within an hour or so?  The healthier mainstream brands help keep you full longer.  Organic bread keeps me full for even longer, because it meets my body's nutritional needs.  You should see similar results yourself: If you are what you eat, then shouldn't you feed yourself only products that completely satisfy your nutritional needs?
Organic product sales are up, with more products being added to every category every day. Organic product growth is also being fueled by shopper trends.  For example, organic savory snacks had the highest growth, up 10.9 percent in 2016, followed by organic soup, up 9.9 percent.
The future of CPG sales is in better-for-you products, with organic being a key driver.