Cargill Turkey Brands Provide 1.75M Meals to Feeding America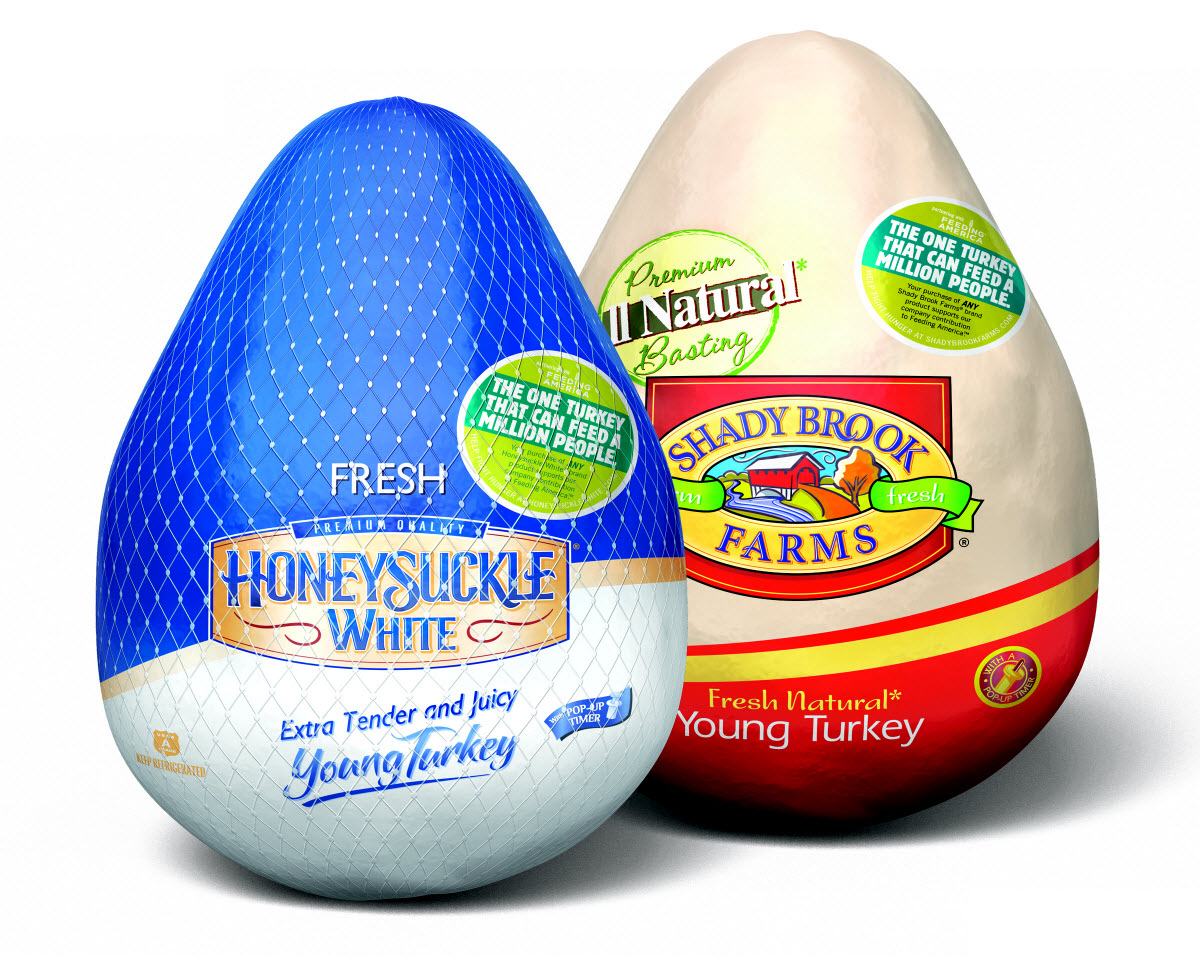 As millions of Americans struggle to make financial ends meet in these challenging economic times, Feeding America and Cargill's Honeysuckle White and Shady Brook Farms turkey brands are teaming up for the second consecutive year to help provide 1.75 million meals to Americans faced with hunger. Cargill's $250,000 donation, an increase of 6 percent over 2009, will help fund the effort.
"We are feeding more Americans than ever before, and we are in continuous need of food and funds to feed the 37 million people who rely on us for food each year," said Vicki Escsarra, president and CEO of Chicago-based Feeding America.
In an effort to spread awareness for the fight against hunger and using the campaign message "The One Turkey That Can Feed A Million People," full-page print ads for Honeysuckle White and Shady Brook Farms whole turkeys will appear in the November issue of Better Homes and Gardens, as well as the Nov. 1 and Nov. 29 editions of Family Circle. A four-page section will appear in Food Network Magazine's Thanksgiving section. Online ads, electronic newsletters, social media and other activities will also support the effort via the Internet.
The in-store initiative will be supported by point-of-sale materials, including 4-foot-high-by 2-foot-wide vinyl banners, static clings and T-stands, and backer boards containing turkey preparation tips for consumers.
"It is truly gratifying to work with Feeding America and help our fellow Americans," said Steve Willardsen, president of Wayzata, Minn.-based Cargill's turkey business. "Giving something back to people and communities is part of Cargill's cultural fabric and core values dating back to the company's founding 145 years ago in rural Iowa. Nobody in America should struggle with hunger from lack of food, so closing that gap is something we want to help accomplish."
Honeysuckle White turkey is a national brand and Shady Brook Farms turkey is a leading regional brand in the Northeast and Mid-Atlantic regions of the United States. Consumers who purchase these brands of whole turkeys for their holiday celebrations help support Feeding America's goals in the fight against hunger. For information about the Feeding America partnership, as well as for information about turkey products and recipes, visit www.honeysucklewhite.com or www.shadybrookfarms.com. Also, join others in discussion regarding the fight against hunger on Facebook at www.facebook.com/honeysucklewhiteturkey or www.facebook.com/shadybrookfarmsturkey.