Cargill Honors Retail, Distributor Partners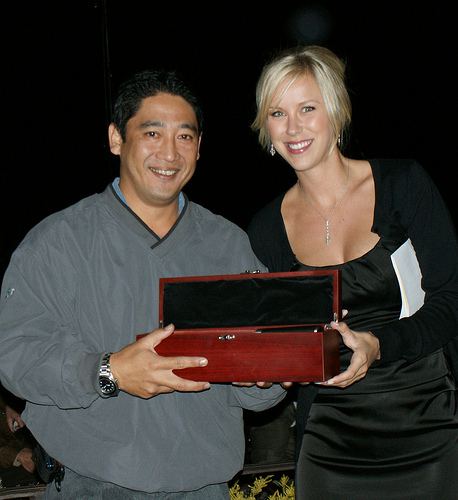 Cargill recently honored several retail and foodservice partners, at an awards dinner at Sterling Vineyards in Napa, Calif., for their support of the company's Sterling Silver premium meat brand through sales and marketing efforts.
Honolulu-based Times Supermarkets received the Sterling Silver Retail Marketer of the Year award (photo at right) for the second year in a row. The retailer operates 18 full-service meat departments that feature Sterling Silver beef and pork products. This year, Times Supermarkets demonstrated ongoing support of the brand by including the brand story in team meetings, social network posts and on its website. The Sterling Silver brand was also top of mind during media planning efforts and was often featured in fliers and coupons.
The Foodservice Marketer of the Year award recipient was Phoenix-based Shamrock Foods, which demonstrated a strong commitment to the Sterling Silver brand by frequently participating in brand promotions and including the brand in marketing initiatives and media efforts.
The recipient of this year's Operator of the Year award was Ric's Grill, a chain of restaurants with locations in Alberta and British Columbia, Canada.
Dallas-based Winn Meat Co. won the Signature Club Star Player of the Year award for its support for the program through collecting the highest number of Signature Club program points and keeping the most accounts active and current.
A new award this year, Best Distributor Sales Representative was presented to Jerry Marschner of the Milwaukee Division of Reinhart Foodservice for his support of the brand by gaining the most new accounts to the Sterling Silver Signature Club program and acting as a brand ambassador.
Other awards included Highest International Growth, XO Chihuahua, Mexico; Highest Beef Volume Growth-Retail, Sobeys Atlantic, Stellarton, Nova Scotia; Highest Pork Volume Growth-Retail, Holiday Quality Foods, Cottonwood, Calif.; Highest Beef Volume Growth-Foodservice, Del Monte Meat Co., San Francisco; and Highest Pork Volume Growth-Foodservice, Green Tree Packing Co., Passaic, N.J.
The three-day Sterling Silver Premium Meats Brand Summit brought together key retail, foodservice and operator partners to present product information and best practices across channels. Wichita, Kan.-based Cargill is an international producer and marketer of food, agricultural, financial and industrial products and services.