08/28/2012
Campbell's Celebrates Pop Culture History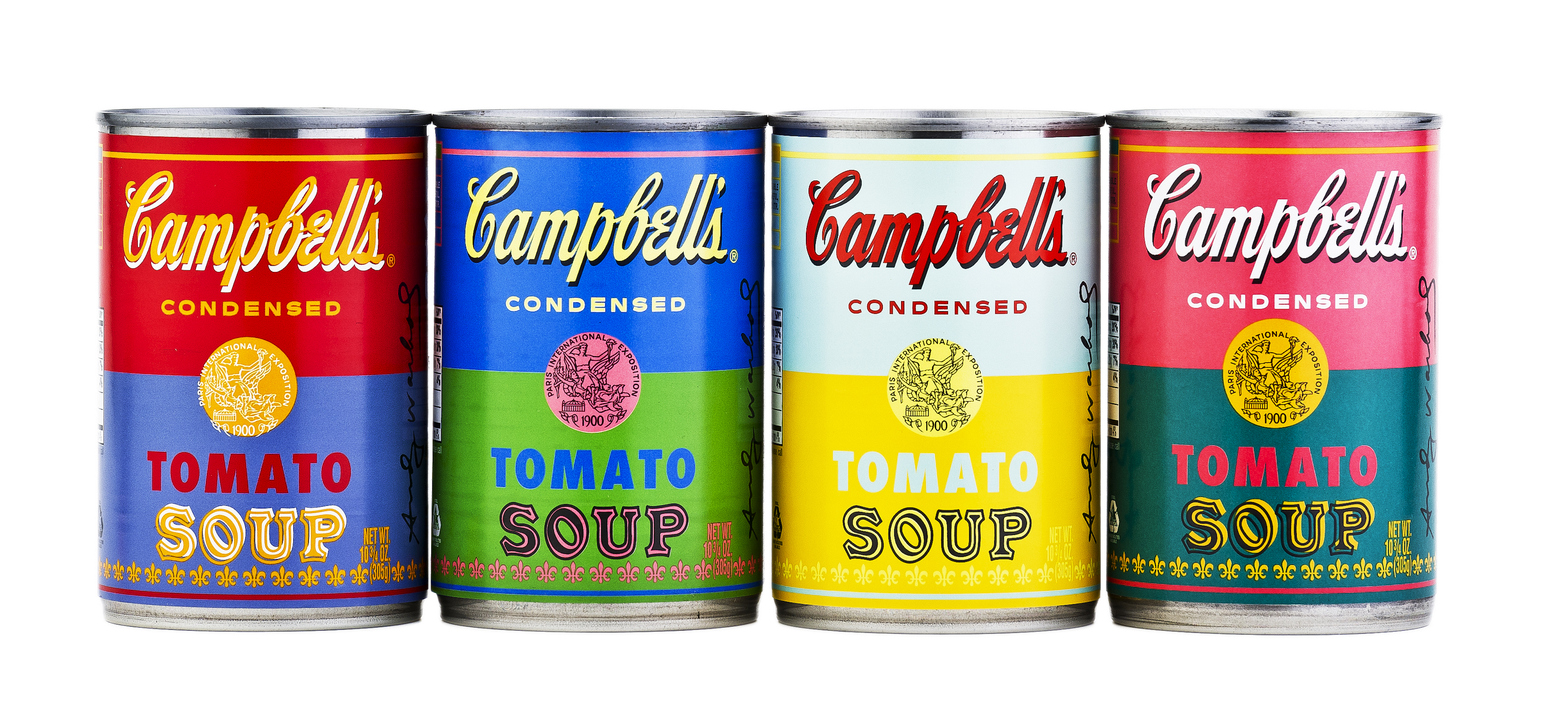 To celebrate the 50th anniversary of Andy Warhol's 1962 famed work, "32 Campbell's Soup Cans," Campbell Soup Co. next month is introducing limited-edition cans of its tomato soup with labels derived from original Warhol artwork.
Available exclusively at Target stores, the four specially-designed labels reflect Warhol's pop-art style and use vibrant, eye-catching color combinations like orange and blue, and pink and teal.
When asked why he painted Campbell's soup cans, Warhol famously quipped, "I used to have the same [Campbell's soup] lunch every day for 20 years." For his first solo gallery exhibition in Los Angeles in 1962, Warhol exhibited 32 canvases, each depicting one variety of soup, displayed side by side like cans on a grocery store shelf. The painting helped launch Warhol's career and ushered in Pop Art as a major art movement in the United States.
"Campbell's Condensed soup is an iconic brand. And thanks to Andy Warhol's inspired paintings, Campbell's soup will always be linked to the Pop Art movement," said Ed Carolan, VP and general manager, Campbell North America.
The limited-edition cans were produced under license from The Andy Warhol Foundation, a not-for-profit corporation that promotes the visual arts. Beginning Sept. 2, the cans will be available at most Target locations nationwide for 75 cents per 10.75-ounce can, while supplies last.
Campbell displays an original Warhol painting at its headquarters in Camden, N.J. The company became a supporter of Warhol's work, sending him cases of Campbell's Condensed Tomato soup, commissioning two paintings and establishing the Andy Warhol Scholarship Fund with the New York Art Academy. Most recently, Campbell partnered with The Metropolitan Museum of Art in New York as an education sponsor for the "Regarding Warhol: Sixty Artists, Fifty Years," exhibition, which opens Sept. 18.
Warhol is often quoted for his statement, "In the future, everyone will be world-famous for 15 minutes." Campbell is giving people the opportunity to realize their own "15 Minutes of Fame" by transforming their photo on Facebook into a Warhol-inspired work of art to share with friends. A few fans' photos will be featured as the cover photo on the Campbell's Condensed Facebook page. Visit www.ArtofSoup.com to find the "Pop Art Portrait" photo application as well as other Warhol-inspired games and activities.
Campbell Soup Co. is a global manufacturer and marketer of brands including Campbell's, Pepperidge Farm, Arnott's, Bolthouse Farms and V8.