09/18/2010
Brookshire's Takes Part in Ambitious Food Drive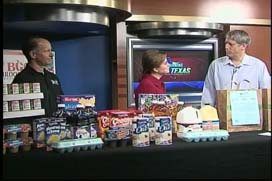 Although it's already donating over 37,000 pounds of food, which will provide more than 31,000 meals at the East Texas Food Bank, in recognition of Hunger Action Month, Brookshire Grocery Co. is asking for a little help from its friends to go well beyond that figure.
The Tyler, Texas-based grocer is encouraging its customers join in the fight against hunger by donating food or money. The food and fund drive, backed by Brookshire's and its Super 1 Foods banner, as well as local TV stations KLTV and KTRE aims to provide enough food for 300,000 meals.
When shoppers purchase a pre-made sack of groceries at any local Brookshire's or Super 1 Foods store, the food will go to the East Texas Food Bank. Customers will have the opportunity to give $1, $5 or more at checkout. According to Brookshires, every dollar donated to the East Texas Food Bank will help provide eight meals.
The drive runs through Thursday, Sept. 30. Although food insecurity is a nationwide problem, affecting some 49 million Americans, in Brookshire's market area of east Texas, the need is particularly acute: one in four children is at risk of hunger, one in five adults is at risk, and one in seven seniors is malnourished.