11/03/2017
Is Amazon Fresh Failing?
Amazon is pulling back its plans for grocery delivery in neighborhoods across at least nine states, two months after plunging deeply into the grocery market with its acquisition of Whole Foods Market, Recode has reported.
The Seattle-based ecommerce giant reportedly has notified customers in certain areas via email that it will shutter its Amazon Fresh service – which, as a $14.99-per-month Prime add-on, offers same- or next-day delivery on fresh groceries, household goods and more – in their neighborhoods later this month, the news outlet said. Current states known to be included are California, Connecticut, Delaware, Maryland, Massachusetts, New Jersey, New York, Pennsylvania and Virginia.
However, service will continue in certain areas of large cities such as New York, Los Angeles, Chicago, Philadelphia and Boston. Reportedly, changes aren't related to the Whole Foods purchase, an Amazon representative told Recode.
Analysts at New York-based Gordon Haskett Research Advisors, in the company's Weekend Warrior newsletter, agreed that while the details behind Amazon's actions are sparse, it isn't difficult to view this as another confirmation that the economics behind fresh grocery delivery remain challenging, and that the associated issues are tough to overcome without reaching the proper scale.
"Grocery delivery is a tricky business to be in, and grocers of all types are still experimenting with different fees and models to figure out what will stick with their shoppers," added Dan Farmer, VP of retail solutions for Toronto-based ecommerce solutions provider Unata. "In fact, grocery is the only vertical that Amazon has had to buy into an existing brick-and-mortar brand, which is testament to how complicated it can be. There is potential they aren't seeing the customer traction that they had expected" with Amazon Fresh.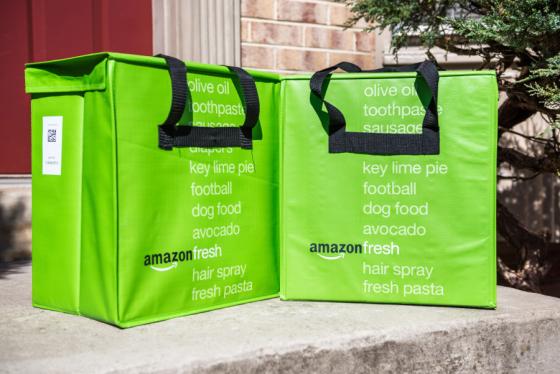 Problems from the Start
The problems Amazon Fresh is facing aren't new; they've been around since its founding, according to Bill Bishop, chief architect of Brick Meets Click (BMC), a Barrington, Ill.-based retail consultancy. Amazon began with a concept that wouldn't work, as it had no cost-effective supply chain in place to execute it.
"Amazon Fresh is failing because they don't yet get how to do fresh compared with Peapod, who is excellent at it," he noted.
And although an Amazon representative told Recode that the Whole Foods deal isn't related to the pullback, David Bishop, partner with BMC, believes the opposite is true, as the transaction gives Amazon the assets that it lacked to properly execute its Amazon Fresh strategy.
"We discussed in our June webinar that the two biggest assets that supermarkets could leverage to grow their online businesses – especially in light of Amazon's acquisition of Whole Foods – are location and connections," he said. "We pointed out that until the acquisition of Whole Foods, these two areas were clear weaknesses for Amazon Fresh."
Location relates to proximity to the consumer, as it addresses some of the nagging last-mile issues, and connection represents the relationship between the retailer and the consumer. Traditional grocers are located within their respective communities and play a large role in the everyday lives of their customers already.
"Getting a household to buy their bakery, meat and produce from you online, without having earned trust before somehow – like an in-store experience – is challenging at first," David Bishop observed.
Amazon knew that its Amazon Fresh model was an extremely resource-intensive model to scale and hinged on building consumer adoption. However, it learned that selling fresh food isn't the same at all as selling packaged goods. BMC's research, according to David Bishop, highlights that how a household decides where to spend the bulk of its grocery dollars is quite different from determining where to purchase one or two specific packaged goods.
"This may be good for Instacart going forward, beyond simply maintaining the current delivery partnership with Whole Foods," he noted. "Instacart, for instance, could assume a role within the Prime Now service, but we'll have to wait and see. Whether it's here or in other retail-related areas, Amazon is clearly trying to get a better manage of their controllable costs."
Meanwhile, Bill Bishop notes that the industry shouldn't necessarily expect Amazon to abandon fresh – its purchase of Whole Foods is a huge indicator that it doesn't plan to do so.
"Amazon's trajectory in fresh will start looking very conventional but evolve, if they're successful, into something much more transformational; i.e. the basis for an entirely new food distribution system that goes directly to the home," he said.
Farmer agrees that Amazon Fresh is just one piece of Amazon's overarching grocery strategy, along with Whole Foods, Amazon Go and Prime Now. And as the company continues to develop its strategy, it's going to iterate based on market performance.
"The end goal is to provide the most convenience and choice at the best possible price," he said. "Amazon Fresh might still be part of that goal, but to what capacity, we'll have to wait and see."