Allegiance Relocates
Allegiance Retail Services LLC has moved its corporate office to 485D Route 1 South in Iselin, N.J. All of the retailer-owned cooperative's e-mail addresses and telephone numbers remain the same.
'Enhanced Operational Efficiencies'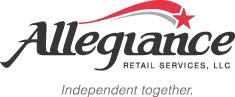 "The newly designed, state-of-the-art floor plan provides greater efficiency for our associates to interact and to conduct business with the vendor community," explained President and COO Michael Stolarz. "The 18,900-square-foot space, with its enhanced operational efficiencies, was designed for future growth opportunities within the Allegiance organization."
Allegiance supports its independent grocer members with marketing, advertising, technological and merchandising support, in addition to a full line of Foodtown private label products.