08/20/2018
Aligning Customer and Employee Experience in Grocery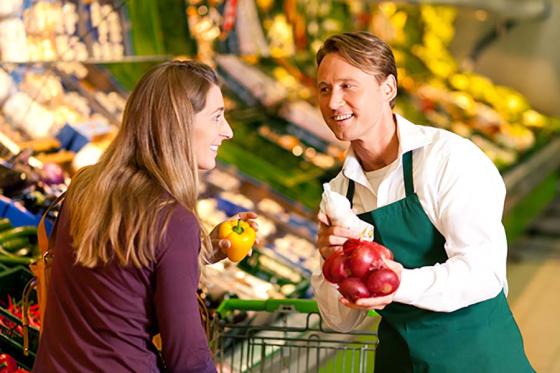 Everyone wants in on the grocery business: Amazon bought Whole Foods. Walmart announced grocery delivery this year, and Target continues to expand its grocery footprint to compete. All the while, gas stations, corner stores, and pharmacies offer the ultimate in grocery convenience to neighborhood shoppers.
With so many players in the space, there is little room to compete on price or differentiate grocery products and brands. To win loyalty, grocers are rightfully hyper-focused on the shopper experience – yet turning that same commitment inward to the employee experience will be what wins in the end.
The bottom line: just as quickly as customers can decide to shop your competitor or suddenly abandon their online cart if you don't build loyalty, your best and brightest talent won't hesitate to jump ship if another employer can offer a more empowering and dynamic experience. Look at your employee experience through the same lens that you examine the shopper experience to help your associates work in an inspired manner and become your strongest differentiating asset.
You have self-checkout – why not self-scheduling?
Similar to the effort or investment made to create a retail environment that's easily navigated, employee resources should be equally organized and convenient. Time tracking and scheduling should be as effortless as today's self-checkout experience. Associates shouldn't need to call the store or contact a manager to get their schedule, swap a shift or ask for time off. Modern scheduling solutions make it so these tasks can be completed digitally, often from a mobile device, from anywhere at any time, without manager intervention.
Mobile shopping is a must and so is mobile workforce management
Mobile workforce technology empowers employees through greater self-service, promotes a better work-life balance, and lets associates work in their preferred way with more control of their schedules. According to Eli Karchov, manager of store communications and workforce management IT solutions delivery for Ahold Delhaize USA, parent company of Hannaford Supermarkets, mobility is key to attracting and retaining a high-performing workforce.
Hannaford empowers its 26,000 employees with untethered mobile access to the company's scheduler tool. Store associates can check their schedules and submit punches from a mobile device, and managers can approve timecards, conduct transfers and track labor activity.
"Our automated workforce solution with mobile, self-service capabilities is an attractive feature for employees, especially our younger Millennial and Gen Z workers," said Karchov. "We arm them with the modern technology they expect from an employer, because when our associates feel empowered and have the tools to succeed, we find that ultimately leads to a better experience for our customers."
"When our associates feel empowered and have the tools to succeed, we find that ultimately leads to a better experience for our customers."
Eli Karchov, Hannaford Supermarkets
Shopper data has proved its worth – now it's time to leverage labor data
Using Big Data, machine learning and analytics, you've built relationships with customers through personalized offers and communications, optimize pricing by determining which products are most price-elastic, track the performance of combo-offers and promotions, control inventory, and derive actionable intelligence to increase spend per visit, cross-sell and grow sales. These same innovative concepts and automated features used to inform business decisions related to customers can also inform decisions regarding your workforce.
With the right data, retailers have the power to significantly improve labor forecasting and demand planning, mitigate unplanned absences, and predict staffing and compliance issues before they happen. For grocery managers, this means fewer routine administrative tasks that distract from strategic, people-centric activities like assisting customers or training and developing store associates.
Your shelves are stocked, but are you properly staffed to meet demand?
Consumers place a premium on human interaction these days, and the retail environment is no exception. Although fewer cashiers will be needed as traditional checkout lines disappear, demand for knowledgeable, personable floor associates to answer shopper questions and provide instant assistance is on the rise.
Hannaford provides a strong example of how to optimize scheduling to meet customer demands across departments. Using a workforce management solution from Kronos, the Northeast regional grocery chain has been able to map department- and counter-specific customer traffic patterns, and also identify when and where certain fixed activities occur. As a result, managers can schedule staff accordingly, and store merchandising teams are empowered to plan activities at specific times when they know traffic will be heaviest. "It all comes down to smart scheduling and having the right technology in place to know when and where our associates are needed to maximize in-store experiences for our shoppers," noted Karchov.
never stop innovating
With so much talk about the customer experience, retailers of all sizes and specialties have an incredible opportunity to cultivate customer loyalty across all channels by establishing or investing in resources to enrich the workplace for their employees. A well-trained, technology-enabled and engaged workforce can be an incredible differentiator to help drive customer satisfaction and repeat business in grocery. Those grocers that invest in their workforces will streamline operations and be well positioned to maximize employee engagement, redefine the shopping experience and strengthen customer loyalty.