08/27/2019
7 Burning Questions on Cannabis That Retailers Need Answered
In fact, by 2025, Nielsen projects that sales of all legalized cannabis in the United States will reach $41 billion: $35 billion from marijuana products and $6 billion from hemp-derived CBD products.
It should be noted that these marijuana projections presume that 75% of the U.S. adult population will have consistent access to legal marijuana by 2025. Hemp-derived CBD projection presumes ingestible hemp-derived CBD products will be legally available at major retailers and across retail channels.
2. HOW WELL ARE HEMP-BASED CBD PRODUCTS SELLING IN TRADITIONAL BRICK-AND-MORTAR STORES?
The CBD craze continues to build momentum across the United States. According to the latest Nielsen Thinking Beyond the Buzz Survey (U.S.) 2019, more than 75% of those planning to consume cannabis will consume a CBD product (CBD-dominant marijuana or hemp-derived CBD) in the next 12 months, if legally available.That said, hemp-based CBD sales in traditional brick-and-mortar stores across Nielsen's retail measurement universe, inclusive of grocery, drug and convenience stores, is exploding.
Nielsen retail measurement shows that sales during the latest four-week period (ended July 13) were three times higher than in the first four weeks of 2019. Distribution is also skyrocketing. To date in 2019, hemp-CBD can be found in nearly 5% of Nielsen-tracked retailers across the country — where a wide pricing spread has blanked the market. Currently, hemp-CBD products range in price from as low as $10 per unit to as high as $60 per unit.
3. HOW HAS THE U.S. CBD RETAIL CLIMATE SHIFTED?
There's an evolutionary shift happening within CBD retail, where current players are at risk of extinction. Prior to 2019, hemp-CBD was sourced and sold through a number of channels, including direct-to-consumer sales, online CBD retail, specialty brick-and-mortar (i.e., vape shops), and natural grocers. As mentioned, 2019 has brought growing success of sales within traditional brick-and-mortar retail channels.
Ecommerce and specialty outlets continue to thrive as well, with consumers purchasing two-thirds of their hemp-derived CBD online or through specialty channels.
Image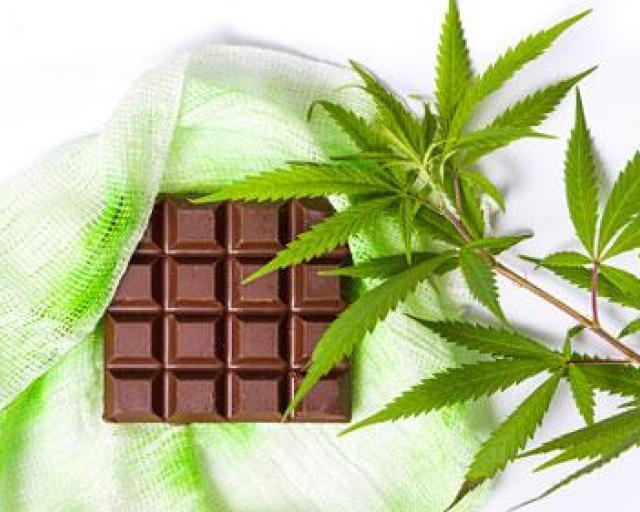 That said, the larger chains are squeezing the natural grocery channel. We believe that within the next year, less than 10% of CBD sales will come from natural grocers (excluding Whole Foods).
Unlike traditional CPG products that have distribution in a wide range of channels and retailers, the brand assortment that Nielsen sees within CBD products varies, with many products sold predominantly in a single channel like C-stores. 
4. WHAT ARE CONSUMERS SAYING ABOUT CBD?
Through social listening insights from Social Standards, a Nielsen Connect Partner network member, CBD has become a trending topic within social conversations around food and beverages, beauty, alcoholic beverages, and personal care.
In the first half of this year, Instagram posts about CBD in these four sectors are up 66% compared with the second half of 2018. Food and beverage CBD conversations dominate the quantity of posts, but beauty and personal care CBD conversations are growing at a faster rate.
5. IN THE BATTLE OF CHOICE, WHAT WILL U.S. CONSUMERS ULTIMATELY CHOOSE TO CONSUME, MARIJUANA (THC) OR HEMP-BASED CBD?
Today, Nielsen data shows that one in 20 U.S. adults claim to have consumed both types of state-legalized cannabis products (marijuana and hemp-derived CBD). And within the next year, nearly half of all U.S. adults will consume some form of cannabis, whether marijuana or hemp-CBD. But, dig a little deeper and there is a battle brewing in the U.S. cannabis market that shouldn't be ignored. Specifically, the dynamic between the various available forms of cannabis is often overlooked. 
Armed with an analytical view into the holistic cannabis space, we believe that marijuana and hemp-CBD will continue to interact with one another and should not be viewed in a vacuum. In marketplaces where marijuana is legalized, cannabis-interested consumers often opt to use a variety of forms. Which form they choose for a specific occasion comes down to a combination of things such as demographics, past experience and familiarity of form, accessibility, affordability, need, nature of the occasion, and the efficacy of the product.
The latest data from our alliance with Headset shows that even within marijuana, CBD-dominant products sold in dispensaries are growing at some of the fastest rates, catering to needs that stretch beyond experience enhancement and social enablement and into the realm of health and wellness.
Additionally, the "entourage effect," reflecting the belief that the greatest efficacy for medicinal purposes comes from a spectrum of cannabinoids, including THC, seems to be resonating with consumers. As this mindset gains more ground, marijuana — which exclusively contains more than a traceable amount  of THC — may possess a unique benefit versus its hemp-CBD counterpart.
6. COULD ADOPTING CANNABIS AS A CPG INGREDIENT HURT MY BRAND?
Companies beware: The dance with cannabis adoptions is a delicate one. The plant — marijuana or hemp — matters. From an equity standpoint, Nielsen data shows that there's significantly more risk to a CPG company's brand/corporate equity with the introduction of marijuana-based products.
A recent Nielsen study found that nearly 40% of older generation groups said that they would at least consider not buying a company's brand if the company were involved with marijuana. That said, younger generations are far more tolerant, with the numbers coming in at less than 20%.
In some consumer segments, the potential loss of sales could be offset by a gain from those voicing a likelihood to purchase more of a company's products if they were involved with marijuana. Each company's situation is unique and is based on its current image as well as the consumer segments to which it appeals.
7. WHICH CONSUMER PRODUCT CATEGORIES ARE MOST AT RISK OF CANNABIS DISRUPTION?
New Nielsen data shows that the move to mainstream marijuana has already had an impact on certain alcoholic beverage, over-the-counter (OTC) and tobacco category segments. While the effect is marginal, showing low- to mid-single-digit impact, it's likely the result of the fact that 25% of U.S. adults have new, legal and readily accessible options to consider when looking to solve social, experiential and health-and-wellness needs. For other CPG categories, however, the impact of marijuana is currently negligible. 
Note
Nielsen's Cannabis Insights Practice provides knowledge and leadership to ensure that the differentiated needs of our clients interested in the cannabis/CBD industry are being addressed with the best possible information and insights. Nielsen projections are based upon a multitude of data ranging from retail POS sales of CBD products to behaviorally based tracking of consumer purchases of cannabis.
When looking beyond marijuana, however, hemp-CBD shows promise to be a major CPG category disruptor in the not-too-distant future. Through a ranking of more than 70 categories, Nielsen has identified the CPG categories most at risk of disruption, noting areas where consumers are most open and interested in trying a CBD product. These categories include coffee, tea, pet products and candy, as well as daily-use health and beauty products like shampoos and toothpaste. In fact, within the next five years, Nielsen projects that edibles and beverages will account for approximately 50% of hemp-derived CBD sales and 25% of marijuana sales in the United States.
With this in mind, It's not too early to start thinking about product development. Many CPG companies have already started the ideation and product concept-testing process. Start planning, ask questions and get answers, because there's no doubt that CBD is going to continue to find its way across the aisle of CPG retail.