2013 Sweets & Snacks Expo Keeps Growing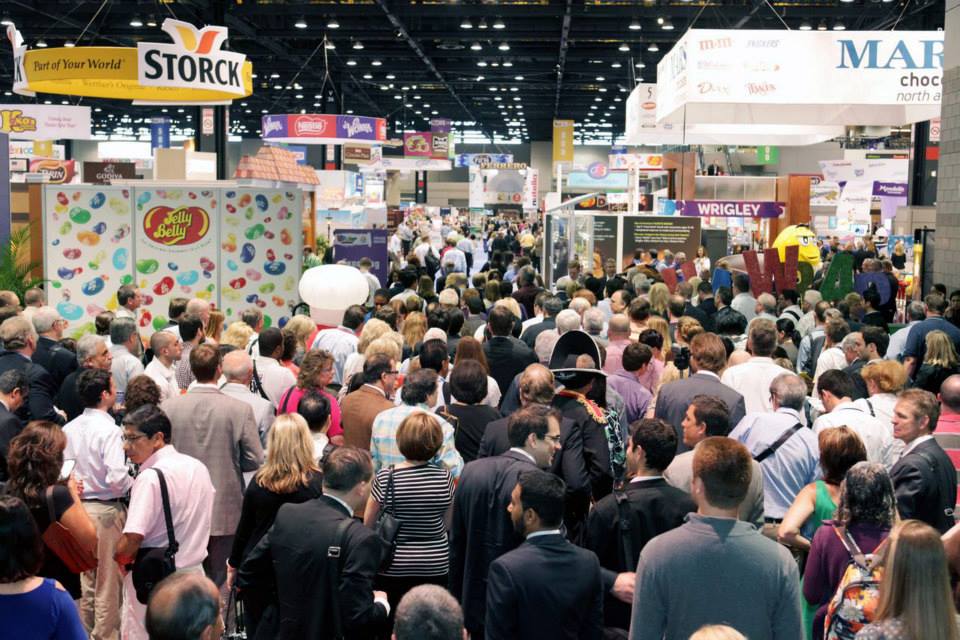 Sponsored by the National Confectioners Association (NCA), last month's 2013 Sweets & Snacks Expo hosted a sold out show at Chicago's McCormick Place to an audience of more than 15,000 qualified industry professionals -- a 10 percent rise in attendance. Square footage sold and new exhibitors also saw impressive increases, of 9 percent and 17 percent, respectively.
"For the fourth year in a row, the expo demonstrated significant growth in all areas," noted Larry Graham, president of Washington, D.C.-based NCA. "Our 10 percent increase in overall expo registration is an accomplishment we relish. In a challenging economy, it is apparent by the continued growth that our event provides vital tools, insights, innovations and resources that the industry values."
This year, 12 percent of expo visitors came to the show from 90 other countries, resulting in double-digit international participation. "NCA recognizes the power of U.S. brands around the world, and we feel the 2013 expo successfully positioned itself as a destination for world markets to come together," added Graham. "We plan to continue expanding our global efforts and outreach for future shows by partnering with firms including Planet Retail and Euromonitor."
"We have evolved into so much more than just a show," observed Tim Quinn, VP of trade development of Hackettstown, N.J.-based Mars Chocolate North America and expo chairman. "Attendees come to find not only new product innovations, but also effective business strategies and inspiring ideas and solutions. With the addition of the new show-wide networking reception on Wednesday afternoon, we provided another opportunity for manufacturers and customers of every size to connect with current contacts as well as forge new business partnerships. Our goal was to provide a solid business opportunity in a relaxed but fun atmosphere."
Among the show's noteworthy features this year were the Shopper Solutions Theater, where visitors could learn about merchandising displays in the Gallery of Success, and then attend one of the Learning Lab sessions presented by experts, and the Most Innovative New Product Awards, judged by a panel representing all facets of the industry.
"New item submissions for the awards were up 17 percent from the year prior, despite a flat year of new product releases according Datamonitor," noted Quinn. "This demonstrates how manufacturers see the Sweets & Snacks Expo as a vital vehicle in promoting and sharing product innovation within the candy and snack industry."
Additionally, the sold-out Gourmet Marketplace almost doubled in size over the past three years, anchored by an improved "Taste of Gourmet" area showcasing upscale pairings and demonstrations; for the third year in a row, Innovation Alley presented candy- and snack-related startup companies that worked the show for solid contacts to jump-start their businesses; and a park-like concourse with trees and music offered creative market shops selling such items as candy-themed accessories.
Further, a 360-degree social media outreach program resulted in thousands of tweets, postings and picture uploads. The expo's Facebook likes increased 38 percent, while thousands downloaded the official Expo App to engage with other attendees, download exhibitor show materials and find their way around the show floor. Also, the all-new virtual media center featured 100 news releases, twice the amount posted in 2012.
"The Expo is a proven destination that 96 percent of past retailers surveyed recognize as a solid business value," said Graham. "They have told us that it is the most efficient one-stop destination they need each year to keep on top of the trends and innovations. We promise the industry to continue to over-deliver in 2014 on the entire expo experience that has led to a four-year growth track record,"
Despite an increased show floor, the 2014 Sweets & Snacks Expo, slated for May 20-22 at Chicago's McCormick Place, is already more than 85 percent sold out, according to NCA.