2011 Product of the Year USA Awards Presented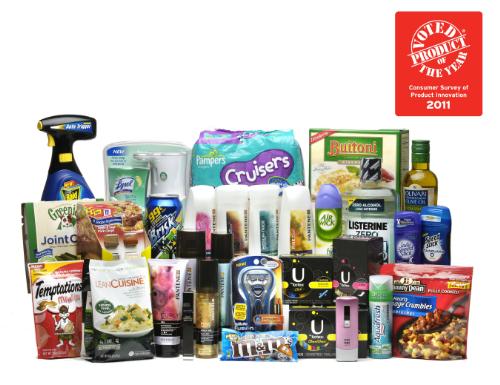 At the 2011 Product of the Year (POY) Awards this week, Procter & Gamble, GlaxoSmithKline, Nestlé USA, Colgate-Palmolive Co., S.C. Johnson, Kimberly-Clark, Mars Petcare and other well-known consumer brands proved to be winners with the American public.
Hosted by Chicago Improv comics Kate James and Greg Mills, and featuring guest speakers Phil Lempert (the Supermarket Guru) and Herb Sorensen of global custom market researcher TNS, the New York City event, which took place Feb. 8, paid tribute to product innovation in the marketplace.
POY winners received a research study informed by the findings a national survey of 60,000 consumers conducted by TNS. According to the survey, 80 percent of consumers are willing to try new products, while 68 percent ay a consumer-voted award for a new product means more to them than an expert's opinion. Recommendations from friends or family positively influence purchase interest among nearly half of the U.S. population.
"Even though modern-day consumers are tasked with deciding which products to use on a regular basis, shoppers are willing to trust their peers when it comes to trying new products that provide great value," noted Sorensen. "The Product of the Year seal is a giant recommendation to consumers, by consumers."
Established 25 years ago in France and now present in 28 countries, POY is the world's largest consumer-voted program honoring innovation in consumer packaged goods. 2011 marks the third annual round of the program in the United States.
The following products were voted Product of the Year in their respective categories:
Personal Care: Speed Stick and Lady Speed Stick Stainguard Antiperspirant Deodorant, Colgate-Palmolive Co.
Toothpaste: Aquafresh iso-active Whitening - GlaxoSmithKline Consumer Healthcare
Mouthwash: Listerine Zero, Johnson & Johnson Healthcare Products Division of McNeil-PPC Inc.
Feminine Products: U by Kotex, Kimberly-Clark Corp.
Candy & Snacks: M&M'S Pretzel Chocolate Candies, Mars Chocolate North America
Frozen Food: Lean Cuisine Market Creations, Nestlé USA
Specialty Foods: Buitoni Riserva Frozen Complete Meals for Two, Nestlé USA
Cooking Spices: Recipe Inspirations, McCormick & Co. Inc.
Beverage: Lipton Brisk, Pepsi-Lipton Partnership
Hair Care: Pantene Pro-V Customized Solutions, Procter & Gamble
Hair Styling: Pantene Pro-V Customized Solutions Stylers & Treatments, Procter & Gamble
Baby Care: Pampers Cruisers and Swaddlers, Procter & Gamble
Male Grooming: Gillette Fusion ProGlide Power Razor, Procter & Gamble
Air Care: Air Wick Air Freshener, Reckitt Benckiser
Personal Hygiene: Lysol Healthy Touch No-Touch Hand Soap System, Reckitt Benckiser
Breakfast: Jimmy Dean Hearty Sausage Crumbles, Sara Lee
Cooking: Olivari Mediterranean Olive Oil, Sovena USA
Insecticide: Raid Max Bug Barrier, S.C. Johnson & Son Inc.
Pet Food: Temptations MixUps Treats for Cats, Mars Petcare U.S.
Pet Health: Greenies JointCare Treats, The Nutro Co.
Cosmetics: MD Lash Factor Eyelash Conditioner, La Canada Ventures Inc.
At-home Beauty Treatment: no!no! Hair 8800, Radiancy Inc.
"Consumer packaged goods continue to demonstrate a need for the market to create products that enhance both consumer confidence and product loyalty," said POY managing director Colleen Kelly. "Product of the Year is pleased to offer consumers the ability to easily sift through and distinguish those brands that stand apart in the consumer packaged goods sector."
Shoppers will be able to identify POY winners starting this month by looking for a red stamp on packaging, in advertising and at in-store displays.