WMMB Rolls Out 'Cheese and Burgers Across America' Website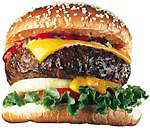 The Wisconsin Milk Marketing Board's (WMMB) Cheese & Burger Society website is rolling out a virtual cheeseburger buffet that stretches across the United States with a tribute to 10 great American cities and the flavors that make them famous.
The 10 new cheeseburgers are inspired by the unique personalities, food heritage, and geographic locales of: Atlanta, Chicago, Dallas, Denver, Kansas City, Milwaukee, New Orleans, New York, San Francisco and Seattle. The common theme among these, and every great cheeseburger, is Wisconsin cheese.
During a visit to the newly updated site, an expressive and entertaining voiceover narration will guide visitors through the burger choices with humor and panache, where they'll discover The Atlanta, which showcases its Southern charm, overflowing with two kinds of Wisconsin cheese, fried macaroni and cheese, picked jalapenos, and thick peppered bacon. The New York, meanwhile, is fit for a black tie affair with an extravagant medley of creamy Wisconsin Camembert, braised beef short ribs, pickled red onions, and sautéed shitake mushrooms. The San Francisco is a wholesome and farmers'-market-fresh cheeseburger that pleases the taste buds with Wisconsin Fontina, sliced heirloom tomatoes, red onions and guacamole.
The new cheeseburgers build on the already popular website that has garnered nearly 2 million visits since its inception with its inaugural 30 cheeseburgers.
Visitors to the site can also enter the Cheeseburgers Across America sweepstakes to win one of 10 Weber charcoal grills or be one of 100 to win one of the acclaimed Cheese & Burger T-shirts. Also new to the site this year is a Cheese & Burger Society store where cheeseburger aficionados can buy their very own grilling-wear such as Dickies work shirts, ball caps, aprons, can koozies and T-shirts.