Winners Named in Vidalia Retail Display Contest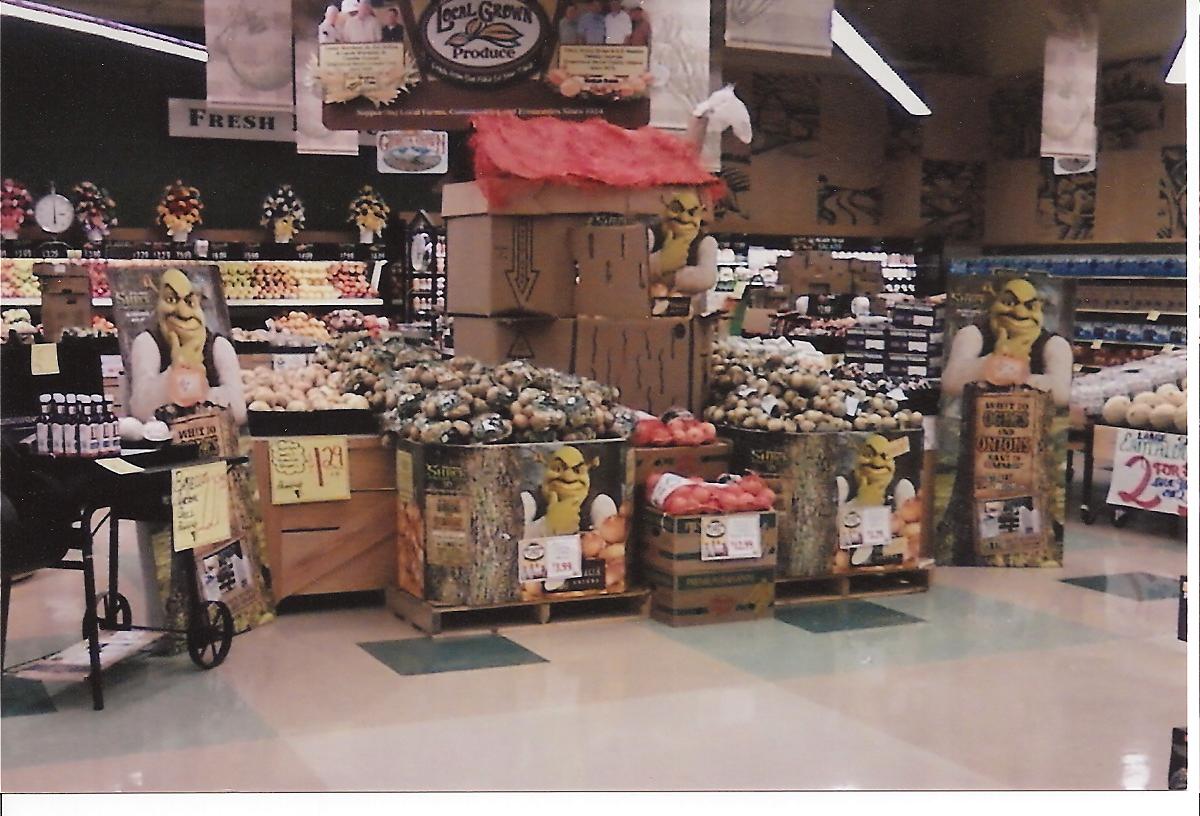 After viewing the "SHREKtacular" handiwork of more than 150 retailers in over a dozen states from Iowa to New Jersey, the Vidalia Onion Committee (VOC) has chosen the winner of its "Ogres and Onions" retail display contest, which tasked participants with creating fun, interactive and kid-friendly displays featuring popular animated character Shrek and Vidalia onion point-of-sale materials. Grand-prize recipient Cathy Harden, a Harvey's Supermarket produce manager in Macon, Ga., will get to go on a three-day, two-night trip for four to Orlando, Fla. including theme park tickets.
Contestants were judged according to such criteria as size and location, creative display techniques, and quality of display.
"We were excited that a couple of large chains had blanket participation, making the contest a competition among the store managers," said Wendy Brannen, executive director of the Georgia-based VOC. "One thing I conveyed to the judges was that we aren't looking necessarily for the slickest display, but one that draws shoppers, positively conveys our product messages, and this year in particular appeals to kids. Getting kids to eat more Vidalia onions was a major goal of the Vidalia Onion Committee this season."
Additional prizes were as follows:
First place ($1,000 cash prize): Melissa Price, produce manager, Harvey's Supermarket, Moultrie, Ga.
Second place ($500 cash prize): Paul Pogrebneak, produce merchandiser, Pennington Quality Market, Pennington, N.J.
Third place ($100 cash prize each): Joseph Franklin, manager, Marsh Supermarkets, Greenfield, Ind.; Randall Havens, produce manager, Bruno's, Mobile, Ala.; Paul Vandermark, produce manager, Food City, Knoxville, Tenn.; Lequitte Perry, produce manager, Food City, Louisa, Ky.; and Josh Bunch and Tim Krehbiel, produce managers, Food City, Knoxville, Tenn.
A further 40 honorable mention prizes went to produce managers from various grocers including Publix, Hy-Vee and Piggly Wiggly. These managers will each get a Shrek Forever After Nintendo DS video game.
Back in April, VOC asked produce managers to let their imaginations run wild to come up with the most original, eye-catching Shrek and Vidalia onion in-store displays. The contest is the fruit of a partnership between the committee and DreamWorks Animation, SKG Inc., to promote Vidalia onions in conjunction with the release of "Shrek Forever After," the last film in the Shrek series.