Winn-Dixie Tempts Tailgaters With Sweepstakes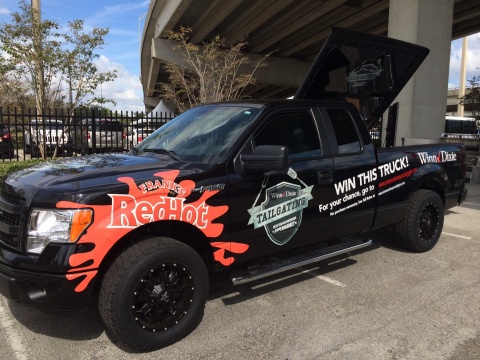 Winn-Dixie Stores Inc. and Frank's RedHot sauces have teamed to offer the "Tailgate Like Real Beef People" online sweepstakes, with the grand prize of a customized 2013 dual-cab Ford F-150 STX pickup truck with a flat-screen TV, an Xbox 360 and an external audio system, along with a stainless steel, pull-out mini kitchen with integrated grill. The contest runs through Dec. 19.
To take part in the sweepstakes, tailgaters must visit a dedicated website to connect to the Winn-Dixie Facebook page, click on the "Tailgate Like the Real Beef People" tab and click the "Enter" link. Once entered, consumers must then upload a picture of themselves and their best tailgate setup via Facebook, Twitter or Instagram with the hashtag #showushowyoutailgate.
Throughout the contest, fellow Beef People, Winn-Dixie fans and dedicated tailgaters will all vote through the Winn-Dixie Facebook page on the best tailgating picture. Voters are permitted one vote per entry per day. At the close of the sweepstakes, the top 10 pictures with the most votes will be judged by a panel and the winner chosen. The winner will be informed through his or her social media profile.
"Our customers are our inspiration for all things tailgating, and they are the real experts in the pre-game spread, so we know there will be great submissions to enter to win this vehicle," said Rondel Cuyler, director of public relations and community involvement at Jacksonville, Fla.-based Winn-Dixie.
"Frank's RedHot is all about making foods taste better with the perfect blend of flavor and heat," noted Christian Ortiz, senior brand manager for Frank's RedHot, a brand of Parsippany, N.J.-based Reckitt Benckiser. "We are passionate about delightful experiences with food so doing this Ultimate Tailgating Truck with Winn-Dixie and [its parent company] Bi-Lo was a great opportunity to showcase how Frank's RedHot can spice up all your tailgating food."
Customers can check out the Ultimate Tailgating Truck during the Winn-Dixie and Frank's RedHot Tailgate Truck Tour, which will make stops at select Winn-Dixie stores and at upcoming football games in Tuscaloosa, Ala.; Tallahassee, Fla.; and Miami. A complete list of tour dates and locations is available online.
Bi-Lo Holdings LLC, the parent company of Bi-Lo and Winn-Dixie grocery stores, employs nearly 60,000 associates at 686 grocery stores throughout Alabama, Florida, Georgia, Louisiana, Mississippi, North Carolina, South Carolina and Tennessee.