Whole Foods Adopts Animal Welfare Rating Program for Proteins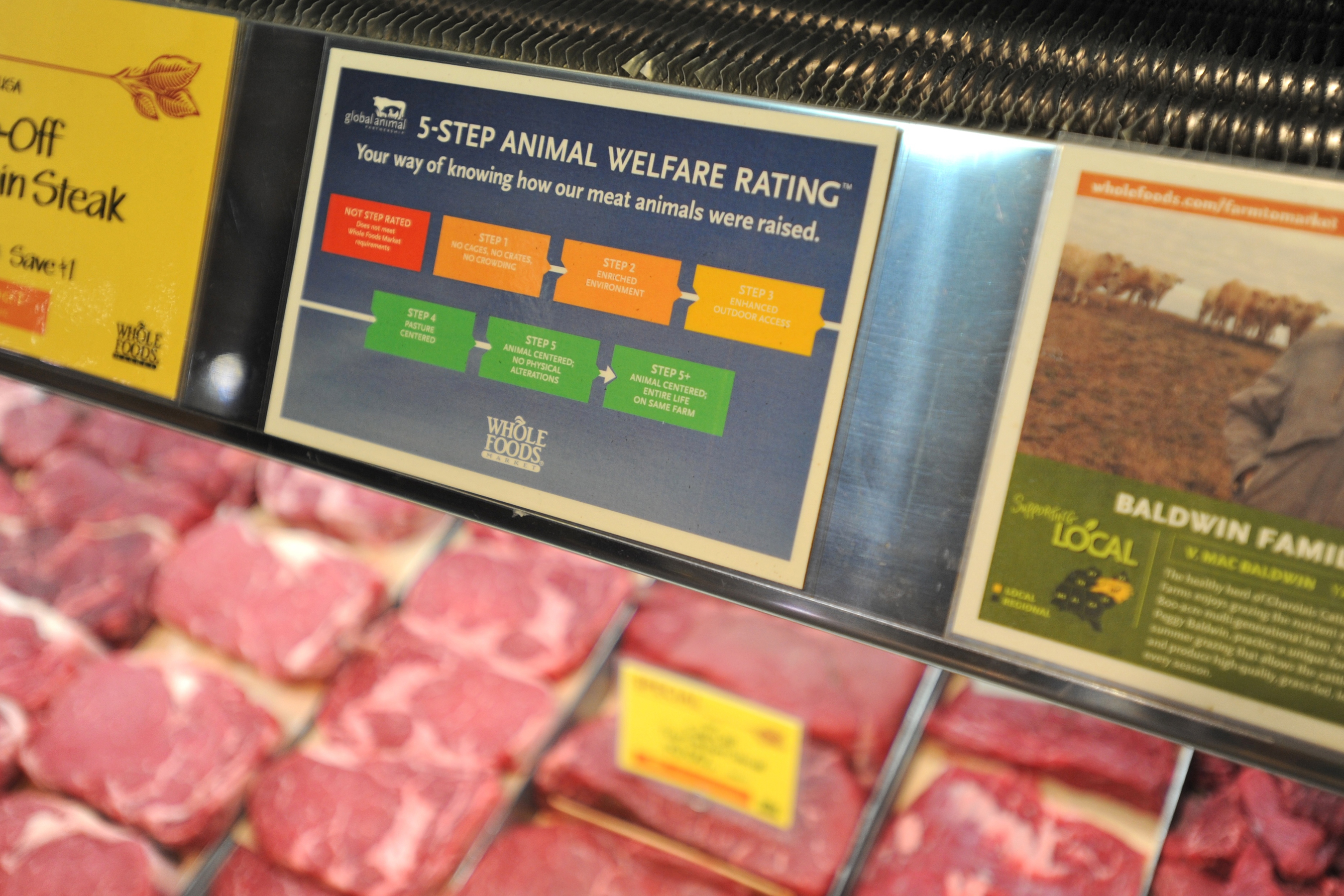 Whole Foods Market is offering customers greater transparency about how farm animals are raised by selling beef, pork and chicken certified under the "5-Step Animal Welfare Rating system."
Developed by Washington-based nonprofit Global Animal Partnership, the program has independent, third-party certifiers auditing farms and evaluate animal welfare practices and conditions according to a tiered system that ranges from Step 1 (no crates, no cages, no crowding) to Step 5+ (animals spend their entire lives on one farm). Not only does the system provide a way to engage and reward producers by promoting continuous improvement in farm animal welfare, but it enables shoppers to make better-informed choices when selecting meat.
The steps are as follows:
Step 1: No cages, no crates, no crowding
Step 2: Enriched environment
Step 3: Enhanced outdoor access
Step 4: Pasture-centered
Step 5: Animal-centered; no physical alterations
Step 5+: Animal-centered; entire life on the same farm
More than 1,200 farms and ranches supplying Whole Foods' 291 U.S. locations with meat products have received Step certification. Color-coded signs and stickers throughout the Austin, Texas-based chain's meat departments highlight these ratings.
All meat offered at Whole Foods must meet the company's strict quality standards, which require that animals be raised on a vegetarian diet without being administered antibiotics or added growth hormones. Step-rated options are now available at all U.S. Whole Foods locations and by May 9, all beef, pork and chicken carried in the fresh and pre-packaged cases will be similarly rated. Further species will be rated as Global Animal Partnership standards are completed.
"With an overarching goal to continuously improve the lives of farm animals, Global Animal Partnership's 5-Step Animal Welfare Rating system is one of the single most impactful programs we have implemented to date at Whole Foods Market," noted A.C. Gallo, the grocer's president and COO. "Our customers have long been asking for information on the raising practices on the farms and ranches that provide products to our stores. [The] new rating system … helps shoppers make even more informed buying decisions while offering them peace of mind that the animals from our producers are raised with care."
"In my 20 years of working with ranchers and farmers, this is the largest commitment to improving farm animal welfare that I have seen," added Whole Foods global animal production and welfare coordinator Anne Malleau. "Producers need to meet approximately 100 requirements to get a Step 1 certification, so achieving the first level is a remarkable accomplishment. Whole Foods Market is able to adopt the 5-Step Animal Welfare Rating system thanks to the true partnerships we have with our producers who put just as much emphasis on the lives of their farm animals as they do on ensuring high-quality products."
Whole Foods' "commitment to fully adopting our 5-Step Animal Welfare Rating program is definitely going to have a significant and positive impact on animal agriculture -- to the benefit of farmers and ranchers, consumers, and the animals themselves," said Miyun Park, executive director for Global Animal Partnership, adding that the organization was already in talks with other grocers and restaurants about adopting the program.