Weis Markets Store Gets Platinum GreenChill Certification
Get great content like this right in your inbox.
Subscribe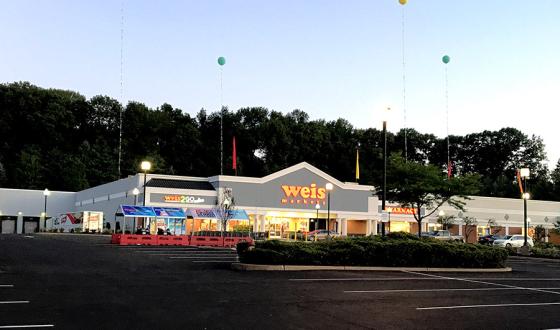 Weis Markets Inc.'s Randolph, N.J., store, which opened this past July, has received platinum-level GreenChill certification from the Environmental Protection Agency (EPA) for reducing in-store refrigerant usage. This is the Mid-Atlantic grocer's first location to deploy an innovative carbon dioxide refrigerant system.
The system helps the store avoid annual refrigerant emissions equivalent to an estimated 673 tons of carbon dioxide versus using traditional refrigerants, which have a considerably higher global warming potential. 
"Over the past decade, we have steadily upgraded our in-store sustainability program, which has helped us reduce our company's overall carbon footprint by 20 percent," noted R. Kevin Small, Weis Markets' VP, construction and store development. "Our new carbon dioxide refrigerant system will help our Randolph store annually avoid emitting the equivalent of 673 tons of carbon dioxide – comparable to removing 142 passenger vehicles from the road. Working with GreenChill has been a key part of our program. This GreenChill certification also highlights the contributions of our store and development associates who help us implement and monitor our program to reduce refrigerant usage."

"Weis Markets continues with GreenChill Partnership leadership through a commitment to consisten store certifications," said Tom Land, manager of EPA's GreenChill Partnership program, in which the federal agency teams with food retailers to reduce refrigerant emissions and lessen their effect on the ozone layer and climate change. "the team at Weis Markets is demonstrating that a focus on responsible refrigerant management is good for the environment and helps reduce operating costs."
Among the Randolph store's other sustainable features are demand response programs to reduce power load during peak days and the store's load on the power grid; LED lighting that reduces energy usage and has lower maintenance costs; low-flow devices to aid water conservation efforts; enclosed refrigeration cases to reduce energy use; and polished concrete floors that don't require chemical cleaning solvents.
Weis Markets now has 11 GreenChill-certified stores.  
Sunbury, Pa.-based Weis Markets operates 204 stores in Pennsylvania, Maryland, Delaware, New Jersey, New York, Virginia and West Virginia. It is No. 27 on Progressive Grocer's 2018 Super 50 list of the top grocers in the United States.