Weis Markets Offers Better Mobile Experience via Upgraded Wireless Infrastructure
Get great content like this right in your inbox.
Subscribe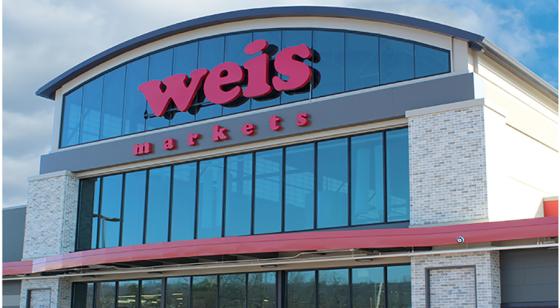 Mid-Atlantic grocer Weis Markets is optimizing its mobile environment across all stores by employing a secure, high-performance wireless infrastructure.
When partnering with Aruba, a Hewlett Packard Enterprise company, Sunbury, Pa.-based Weis Markets sought to ensure that its 23,000 store associates and 1,000 distribution and headquarters associates could purchase, inventory, select and place the correct products on store shelves. The company also aimed, from a sales and service perspective, to offer better in-store mobile experiences for customers, adopt more sophisticated app services (such as push notifications for offers), and gain insights into customers' behavior and needs using the new grocery technology.
Although Weis Markets replaced its Cisco access points (APs) in 2014 and standardized on Aruba Wi-Fi companywide, the retailer determined that upgrading to Aruba's Gigabit Wi-Fi Instant APs would provide more robust connectivity while reducing costs and helping the grocer support mobile-first shoppers and associates. With about 5,000 APs deployed in Instant mode across its 205-plus stores, distribution and warehouse centers, as well as its store support center in Sunbury, Weis Markets was able to simplify wireless infrastructure deployment and management, rather than placing a controller in every location.
"Survivability was the primary driver for deploying Aruba Instant APs," said Jacob Koch, manager of systems administration at Weis Markets. "As we grow, Aruba's controllerless model allows us to quickly bring new stores online at a much lower cost."
Within its distribution centers, Weis Markets uses a combination of wireless headsets and Honeywell's Vocollect over the Aruba network to enable a voice-controlled product-pick system that helps associates select products quickly and easily. The increased picking accuracy results in a higher percentage of correct product on store shelves, improving the overall efficiency of Weis Markets' inventory processes and, ultimately, impacting the retailer's sales positively.
The addition of Aruba ClearPass for unified wired and wireless network access control (NAC) allows Weis Markets to differentiate among corporate, personal, guest and – in the future – Internet of Things devices on the network by adding more granular policy and management capabilities. Combined with Aruba AirWave network management, Weis Markets' network administration team can make configuration changes and update software across all of their stores' Instant APs quickly and easily, according to Koch.
AirWave's reporting functions enable fast identification of excessive resource usage, verification of PCI compliance, and discovery of hardware inventory information. Robust alerting allows the team to identify any AP issues, rogue devices or network problems so they can be quickly resolved.
With the Aruba network in place, Weis has not only reduced costs and improved efficiencies, but also gained a competitive advantage with customers – roughly 6,000 of whom connect to the in-store guest Wi-Fi daily.
"We leveraged AirWave to create a guest wireless SSID [service set identifier] by applying a single configuration change on our APs that we advertise to our customers," explained Koch. "This gives us an advantage, compared to our competitors, who might only offer wireless in a café area. Customers can download and use our app anywhere in the store without having to move to the cellular network and thereby, experience faster response times."
The Aruba network is preparing Weis Markets for its future IT initiatives, as well. Koch noted that once it has completed their AP upgrades, the grocer plans to adopt analytics software that will help uncover customer habits to better respond to customer needs and, ultimately, drive increased sales. In addition, Weis will evaluate the use of push notifications to send relevant coupons and offers to customers who authenticate to the network.
Other future initiatives might include digital product pricing on shelves, asset tracking for grocery carts, and even robots for in-store cleanups.
"With our Aruba infrastructure we can examine all of these initiatives, as we're confident the network will enable us to continue innovating and improving," Koch said.
Weis Markets ranked 27th on Progressive Grocer's Super 50 list of the top grocers in the United States.