Weis Launches 'Pet of the Game' Contest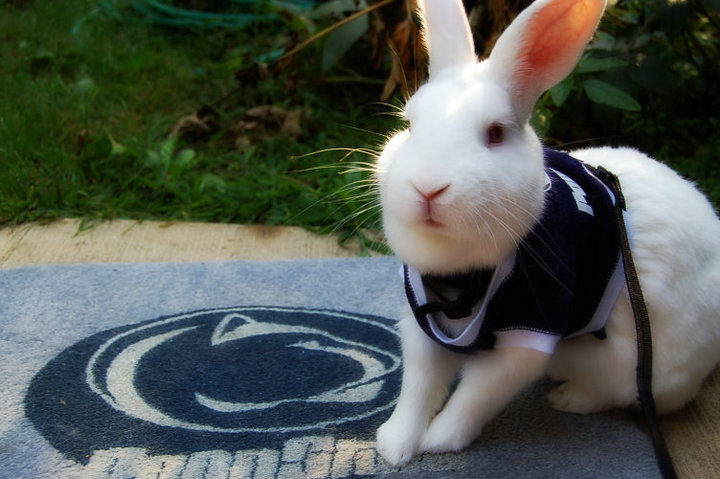 Weis Markets is bringing back its Facebook photo contest, where Penn State fans and their pets will compete to show off their school spirit and be named the Penn State "Pet of the Game."
To enter, fans must "like" the official Weis Markets Facebook page and enter a photo of their favorite pet dressed in Penn State gear or colors. The grand prize is eight tickets to the Penn State vs. Nebraska home game at Beaver Stadium on Nov. 23, and includes VIP tailgating passes and a $250 Weis Markets gift card.
"This is easily one of our most fun promotions. We know that Penn State fans are devoted to their football team and also their pets," said Steve McFarland, Weis Markets senior digital marketing specialist. "The competition is ferocious. In past contests, we've had nearly 300 competitors including dogs, cats, horses, gerbils and even a rabbit named Rudy (pictured) who lost by a whisker in 2010."
Each week through Nov. 9, one "Pet of the Game" entrant will win a $50 Weis Markets gift card. Winners are based on how many votes their pet's photo receives on Facebook. Those winners will then be entered into the grand-prize contest with finalist voting taking place from Nov. 9 to Nov. 18.
In other Weis Markets news, the grocer has completed the remodel of its 12th Street location in Lebanon, Pa., and will make $1,500 in local donations as part of its grand re-opening celebration on Sunday. The company invested $3 million in the project and the store remained open to customers throughout the construction.

"We've upgraded most of our fresh departments, increased variety throughout the store and added all new décor," said Dennis Curtin, director of public relations. "The result is an enriched shopping experience and a more convenient one."

As a result of the remodel, the store has enhanced produce, deli, bakery and seafood departments with increased variety, as well as a new floral department.

As part of Sunday's celebration, the store team will make individual donations of $500 to the City of Lebanon Fire Department; Big Brothers, Big Sisters; and FedsFeed Families, a program of the Lebanon VA Medical Center.
Founded in 1912, Sunbury, Pa.-based Weis Markets Inc. operates 165 stores in Pennsylvania, Maryland, New Jersey, New York and West Virginia.