WEB EXTRA: Rising Stars
Progressive Grocer's January 2014 issue turns the spotlight on several key executives among those our team will be closely watching this year: Shelley Broader, CEO of Walmart Canada; Sam Duncan, CEO of Supervalu; Robert Edwards, CEO of Safeway; Robert Mariano, president CEO and chairman of Roundy's Inc.; Rodney McMullen, CEO, and Michael Ellis, president and COO, The Kroger Co.; and Randall Onstead, president and CEO of Bi-Lo Holdings.
Here are a few more rising stars that our staff and other industry observers have their eyes on in 2014:
Steve Black, VP Information Systems, Sprouts Farmers Market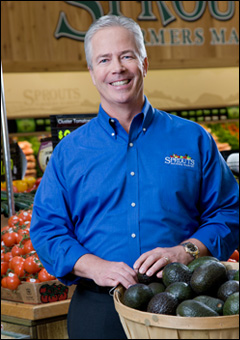 Black (photo at right) headed up marketing, IT and operations at Sunflower Farmers Market, which did an extraordinary job of "surprising and delighting" customers before its acquisition by Sprouts.
As Sprouts' chief marketing and information officer, Black is responsible for developing and implementing strategies to increase the chain's brand awareness in new and existing markets. In 2013, he was named CIO of the Year by Retail Info Systems News, a global provider of retail market insights and consumer trends.
With a career that has included United Supermarkets of Oklahoma, Homeland, Bruno's and Buy and Less, Black is clearly destined for further advancement.
John Boyle, Group VP of Store Operations, Roundy's Inc.
An all-around retailer, Boyle spend six years running the company's IT before taking on operations, and has strong financial expertise. He also spent three years running IT at Food 4 Less, and oversaw IT and admin at pre-Safeway Dominick's alongside Bob Mariano, who's now chief exec at Roundy's.
Jason Potter, President of Multi-Format Operations, Sobeys Inc.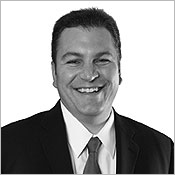 Potter (photo at right) is a strong operator with a contemporary style and excellent leadership skills. He is responsible for Sobeys' multiformat operations business unit, including Sobeys, Thrifty Foods, Sobeys Urban Fresh, Foodland, IGA stores (Western Canada), FreshCo, Needs and Fast Fuel, plus Sobeys' liquor operations.
With the company since 1992 in progressively senior operations and merchandising roles, Potter previously served as president of operations for Sobeys Atlantic Region. He's a past recipient of Canada's "Top 40 Under 40" award, which honors vision, leadership, innovation, achievement and community involvement.
Ian Prisuta, SVP of Grocery Merchandising, Giant Eagle
Bringing a diverse background to his current job, Prisuta currently serves as senior VP for grocery merchandising at the Pittsburgh-based grocery chain with 420 stores in Pennsylvania, Ohio, West Virginia and Maryland. Observers believe that Prisuta, who also has experience in business systems and supply chain, is being groomed for something higher within the company.
Nicholas "Nico" Sumas, VP of Operations, Village Super Market Inc.

Sumas (photo at left) is third-generation management of a family business that started as a vegetable stand in the 1930s and now owns 29 stores under the ShopRite banner in New Jersey, Maryland and Pennsylvania. Part of the booming Wakefern Food Corp. cooperative, Village Super Market Inc. is unique even among Wakefern members as the only ShopRite owner/operator that's publicly listed on the Nasdaq stock exchange.
Part of a dynamic family enterprise looking forward to continued growth, Sumas is similarly poised for higher positions. Armed with an MBA from Northwestern University's Kellogg School of Management, he's clearly prepared to run a modern business.