Walmart Providing Rxs at No Upfront Cost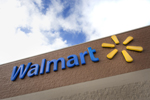 Wal-Mart Stores Inc. will provide prescriptions at no upfront cost to enrollees in the public health insurance marketplace under the Affordable Care Act. The Bentonville, Ark.-based mega-retailer described the Dec. 31 move as a proactive way to help customers who have bought policies through the exchanges but not yet received their insurance cards.
"At Walmart, we are committed to offering our customers affordable ways to stay healthy, including access to their medications," noted John Agwunobi, SVP and president, health & wellness at Walmart U.S. "Customers who have signed up for the public health exchanges should be able to access their benefits immediately. That's why, … through the end of January, we will fill up to a 30-day supply of prescriptions with no upfront cost to customers who have enrolled but have not yet received their plan identification information from their insurance providers."
Added Agwunobi, "Our pharmacists will also provide assistance in verifying enrollment and will be available to help answer questions about the new insurance plans."
Others Debut Similar Programs
Kroger, based in Cincinnati, and Deerfield, Ill.-based Walgreen Co. have rolled out similar programs, and Woonsocket, R.I.-based CVS Caremark said that "in some circumstances and based on clinical considerations," it would "assist patients who are experiencing a temporary disruption in insurance coverage with a transitional or 'bridge' supply of medication to support their continuity of care." A "bridge" supply is for 15 or 30 days, according to CVS.
Walmart operates more than 11,000 stores under 69 banners in 27 countries and e-commerce websites in 10 countries.