09/12/2018
Walmart Builds 2nd Kiosk for Grocery Click and Collect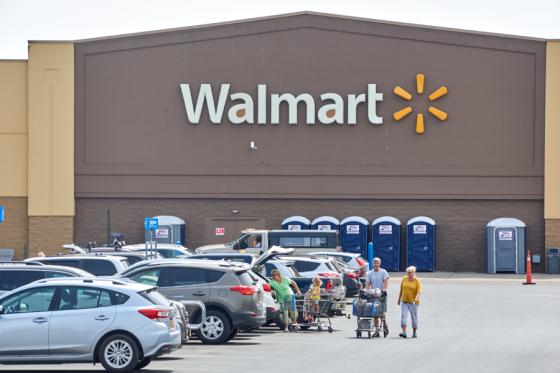 Following its test of an automated grocery kiosk last year, Walmart Inc. is expanding the concept, creating a second location of the new grocery technology, Business Insider has reported.
The kiosk, which features refrigerators and freezers for perishable goods, is larger than its predecessor and can serve more people at a time, allowing customers to order groceries online and pick up their orders. The "vending machine" is being tested at a Walmart supercenter in Sherman, Texas, the news outlet stated.
To use the concept, customers purchase and pay for groceries online, alerting associates at the store – to which the kiosk is attached – to build orders and store them in bins. Shoppers then visit the 11-foot by 127-foot kiosk and pick up their orders. Orders are built within seconds, Business Insider noted.
Shoppers receive no charge for picking up their groceries, though orders must cost at least $30. A Walmart representative told the news outlet that the entire process can take less than a minute.
Last June, Walmart began testing a smaller version of the new kiosk at a store in Oklahoma City, NewsOK.com reported. At the time of the announcement, it included 30,000 items – including fresh produce, meats, dairy products and organic groceries. However, standing at 20 feet by 80 feet, it could serve only two customers at a time, whereas the new kiosk can serve more at once.
This summer, Walmart also introduced new grocery technology to help automate the online picking process for grocery pickup. Partnering with North Billerica, Mass.-based Alert Innovation, the Bentonville, Ark.-based mega retailer introduced Alphabot into the picking process at a Salem, N.H., Superstore, building a 20,000-square-foot extension onto the store to house the technology. It serves as a dedicated grocery pickup point with drive-thru lanes for customers.
Alphabot automated mobile carts work behind the scenes by picking products from the storage area and delivering them to one of four picking stations, where pickers then consolidate the items into customers' orders. Pickers can spend less time walking the aisles for center store items and more time selecting customers' fresh items like meat and produce.
One of the country's largest online grocers, Walmart also operates more than 11,200 stores under 55 banners in 27 countries. The Bentonville, Ark.-based company is No. 1 on Progressive Grocer's list of the top grocers in the United States.