Walmart Bows Goodies Co.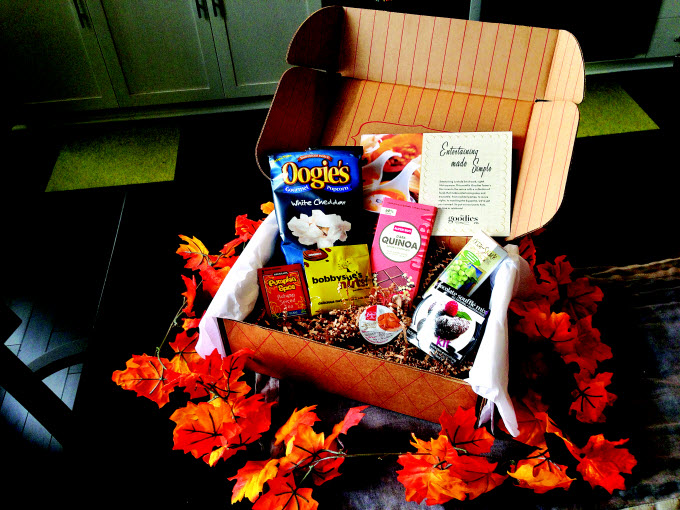 Wal-Mart Stores Inc. has launched Goodies Co., a monthly food subscription service enabling consumers to have gourmet foods delivered right to their doorsteps and discover new items. For $7 per month, including tax and shipping, subscribers get a gift box with five to eight hand-selected taster samples ranging from healthy and organic to artisan and ethnic. The new service is the brainchild of @WalmartLabs, Walmart's e-commerce arm.
For the past few months, Goodies Co. has been in a private beta test involving more than 3,000 users across the United States. Each month, foods are presented in themed packages such as "Flavors around the World," or, for Halloween, "Trick-or-Treat Sweets." For November, subscribers can expect a Thanksgiving-themed "Easy Entertaining" gift box (left) filled with wine biscuits, pumpkin souffle mix, dark chocolate-infused Quinoa bars and white cheddar popcorn, among other seasonal treats. The box also includes a colorful information card describing each food in detail.
"We continue to experiment with new offerings to delight our customers and leave them with a smile," said Ravi Raj, VP of products for San Bruno, Calif.-based @WalmartLabs. " With Goodies Co., subscribers have the pleasure of opening a box filled with delicious treats every month that they like or may never have tried before. Great value, combined with a community of food lovers and the sheer surprise of what a box might hold, makes Goodies Co. a compelling offering."
Consumers in the continental United States can sign up for the service at a dedicated website. After enrollment, their names are placed in line to receive an invitation to join the Goodies community. Once an invitation is received and the user completes the subscription, he or she will receive a first Goodies Co. box within weeks.
In contrast to other such offerings, Goodies Co. is the first to offer a wide variety of products for a total price that's almost half of the total value of the items if they were purchased separately, according to Walmart. For instance, the total price for all of the items in the November box would be about $15, compared with the Goodies Co. $7 price. When subscribers come across a product they love, they can then buy full-size versions from the Goodies Co. website.
The service also creates an online social community where subscribers can post reviews to earn loyalty points, which can be redeemed in the future for boxes or items in the store.
Goodies Co. is the latest in a series of innovations from @WalmartLabs, which in the past year has rolled out Polaris, a search engine built from the ground up and used on Walmart.com; Shopycat, a social gift finder; Classrooms by Walmart, a program to simplify back-to-school shopping; Get on the Shelf, a crowdsourcing contest to find new products for Walmart; and Social Media Analytics, tools that use social chatter to choose items to be carried by Walmart.
Bentonville, Ark.-based Walmart operates 10,300 stores under 69 banners in 27 countries and e-commerce websites in 10 countries.