Valpak Launches Great Grocery Giveaway Sweepstakes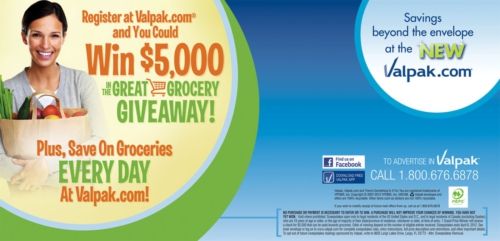 Valpak Direct Marketing Systems Inc., a provider of local print and digital coupons, is giving consumers the opportunity to win $5,000 toward the purchase of groceries with its Great Grocery Giveaway sweepstakes that launched this month.
"Most savers are familiar with the monthly Blue Envelope filled with offers, but they may not know Valpak.com is another option to help save money at the grocery store as well," noted Deanna Willsey, director of corporate communications at a Largo, Fla.-based Valpak. "Groceries are one of the most popular requests from consumers, so in addition to local coupons and savings on restaurants, beauty, dining, automobile, home and medical services, there are also great grocery coupons on Valpak.com that can help families stretch their budget whether they are dining out or making dinner at home."
The sweepstakes runs through April 6. Valpak envelopes promoting the Great Grocery Giveaway will be sent to homes through March 26.
Valpak is owned and operated by Cox Target Media Inc., a subsidiary of Atlanta-based Cox Media Group Inc. With nearly 170 franchises throughout the United States and Canada, Valpak's Blue Envelope reaches nearly 40 million households each month. Annually, the company will distribute 20 billion offers inserted in more than 500 million envelopes. Valpak also offers digital solutions on its online site for local savings, which has nearly 70 million offer views each month, as well as mobile phones, including apps for most smartphones.