Urstadt Biddle Buys 2 A&P-anchored Shopping Centers
Urstadt Biddle Properties Inc. has acquired two A&P-anchored shopping centers in New Jersey, one in Boonton and the other in Bloomfield.
The 63,000-square-foot Boonton center (right) was purchased for $18,350,000, subject to an existing mortgage in the amount of $7,800,000 requiring payments of principal and interest at a fixed rate of 4.2 percent annually. The mortgage matures in September 2022. Located within Morris County, one of the wealthiest counties in the United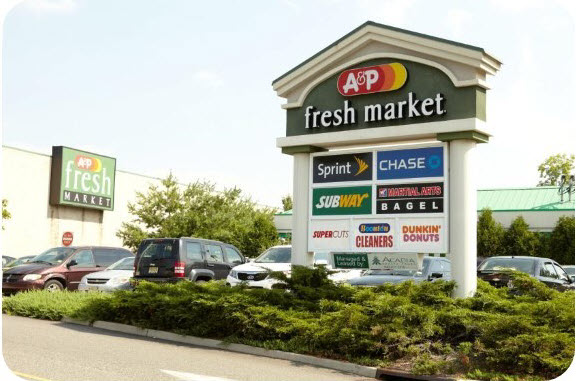 States, the shopping center was built in 1999 and features a 49,463-square-foot A&P, along with a Dunkin' Donuts, Chase Bank, Subway, Supercuts and Sprint. More than 90 percent of the tenants are national or regional operators.
Built in 1977 and renovated in 1999, the 56,000-square-foot Bloomfield center was purchased for $11,005,000, subject to an existing $7,700,000 mortgage requiring payments of principal and interest at a fixed rate of 6.43 percent annually. The mortgage matures in August 2016. The center is anchored by a 30,750-square-foot A&P and an 8,950-square-foot Walgreens, and also includes a Dunkin' Donuts, Supercuts, pizzeria, liquor store and stationery store. The center is located in a densely populated market and has very high traffic counts.
Continued Expansion
According to Willing Biddle, CEO of Greenwich, Conn.-based Urstadt Biddle, the acquisition continues the company's "expansion into the New Jersey suburbs, which helps fulfill one of our company goals of investing in high-quality grocery-anchored shopping centers in the suburban areas surrounding New York City. Coupled with other new holdings in nearby Union and Bergen counties, including our recent investment in the Village Shopping Center in New Providence, N.J., and the Chestnut Ridge Shopping Center in Montvale, N.J., central and northern New Jersey are proving to be high-performance markets for us."
Added James Aries, Urstadt Biddle's director of acquisitions: "We believe that the Bloomfield Center has strong leasing upside, and Boonton is a solid, 100 percent-leased grocery-anchored shopping center in our core marketplace that we were able to acquire at a reasonable price. Sellers have faith in our ability to close quickly and without complication."
Urstadt Biddle is a self-administered equity real estate investment trust that owns or has equity interests in 66 properties containing about 4.8 million square feet of space.