United He Stands, For 50 Years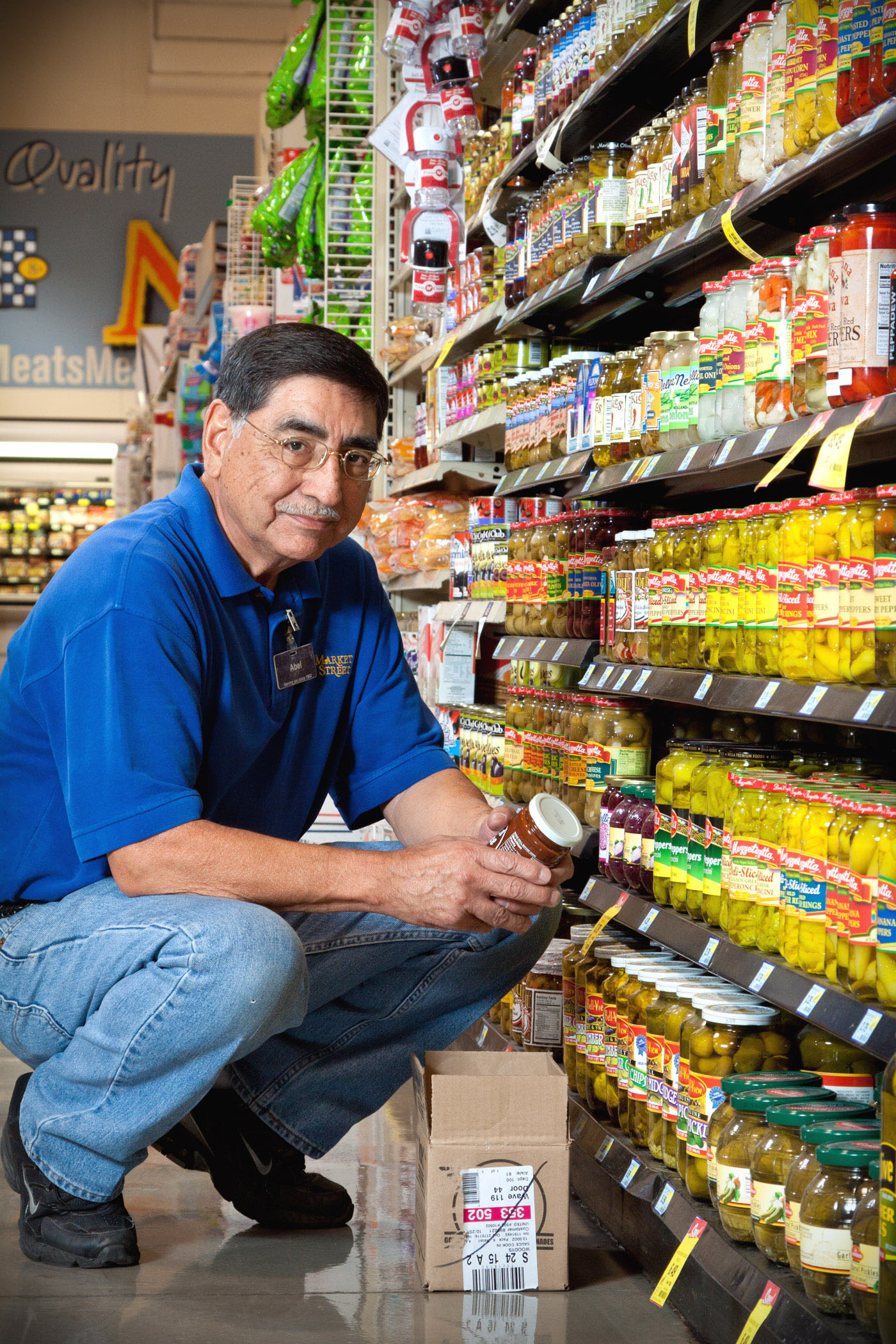 Abel Pompa gets recognized practically wherever he goes, which he says is because he's the longest-tenured employee of United Supermarkets, and he's constantly running into customers he knows.
Pompa, 68 (left), is celebrating his 50th year with Lubbock, Texas-based United, a company he started work with when he was just out of high school.
Starting as a bagger, Pompa worked his way up the chain, eventually serving as a store director for 13 years in the 1980s and 1990s. Rather than leave Lubbock to be a store director elsewhere in the chain, Pompa took a smaller role as specialty manager, where he oversees the specialty items at United's 50th Street and Indiana Avenue Market Street location.
Pompa said he often gets comments about the 1962 on his nametag, denoting his first year of work at United. And while a new hire would probably be given an employee number somewhere in the 8,000 range, Pompa's employee number is seven. Pompa said he originally planned to save up for college, but the work became full time and he got married not long after that.
"To me, it doesn't seem like I've been with the company that long because it's been a fun job," Pompa said. "And I guess you like the people, you like the job, time just passes by and you don't really think about other things, like moving on to something else."
But his career almost went another direction. "I had an opportunity to go to work in the oil fields right about the time I moved to Lubbock," Pompa recalled. "I had some friends who approached me to go to work for them and I knew them. They offered me a job, but I had just moved here, so the timing was bad for me. I had requested a transfer to Lubbock, and I thought it would be a bad time to make a change like that. That is really the only time I've ever thought about leaving the grocery business."
Pompa's decision turned out for the best not only for him, but also for United Supermarkets. In the years since, he has worked at a handful of Lubbock stores, including the Fourth Street location that was impacted by Lubbock's devastating 1970 tornado. "I had recently transferred to the store at 50th and Slide," he said. "If I had been there three months earlier in May, I would have been in the store closing up."
For the past 10 plus years, Pompa has been part of the Market Street team and has served as a mentor, sounding board and friend to scores of other team members.
"Usually, when I'm thinking about doing something different here at the store, I run it by Abel," said John Jameson, general manager at the 50th and Indiana store. "He has seen so much through the years, that if I'm trying something new, he is one of the first guys I bounce it off of. His opinion means so much to me. He's been a mentor to me since I've known him."
And United means a great deal to Pompa as well.
He said there were two main reasons that he has remained with the company so long: the way people are treated and the opportunity to move up in the organization. "I think a lot of people get tired of doing what they're doing," he said. "But at United, you have chances to move up, and I was able to do that."
Pompa served as a store director (general manager today) at Lubbock's Marsha Sharp Freeway location and at an old location on south University Avenue. "I had the chance to move up at a time that worked for me," he said. "I wanted more responsibilities, and my kids were growing up. It worked out great."
It worked out for the company, too.
"Most people, when talking to Abel Pompa, might miss they are in the presence of true greatness, of a living legend," said Matt Bumstead, United co-president . "He himself wouldn't say he was anything special, and that is exactly the key to what makes him special. He is a hero to our entire family."
Pompa said he considers United to be a heroic organization when it comes to how the company treats its people. "The people upstairs, so to speak, do a great job," he said, referring to upper management. "They've done a great job forever. The way I've always approached it is if I take care of the company, the company will take care of me. That's what has happened."
A young Abel Pompa came to work for United at a time when a number of migrant workers from Mexico were being contracted to work in the South Plains cotton fields. "I applied (at United), and the manager asked me two days later if I was ready to go to work," Pompa recounted. "I said I was ready. He told me to be there at 2 a.m. All I could say was, '2 a.m.?' He told me they needed someone to interpret for migrant workers. That's how I got my job at United."
For the record, Team Member No. 7 hasn't looked back since. "Abel is one of our best links to our own heritage, and we can learn a lot about what United has always tried to be by examining Abel's career," Bumstead said. "Abel personifies the qualities United tries to embody – humility, love of serving others, honor and integrity, generosity, kindness and compassion, dedication to the job at hand and, of course, commitment to giving one's best every day. That's who Abel is."
As for the future, Pompa isn't ready to think about retirement. He and his wife have been together for virtually all of his 50 years with United, and he enjoys visiting his two grown sons in Dallas. "Retirement is down the road," he said. "Every time I say something like this might be my last year, John (Jameson) says, "Not yet.'"
In addition to spending time with family and friends, Pompa also enjoys playing golf, and he recalls one of his favorite memories taking place on a golf course at a United directors meeting. "I made a hole-in-one (on No. 17) at Lubbock Country Club, and it's something I will remember forever," he said. "I hit it and it went in and everybody just started jumping up and down. We got to the next tee, and they told me I had the tee. I was still on Cloud Nine."
Pompa will be honored at a luncheon Jan. 10 at the Lubbock Country Club.
Now in its 95th year of operation, United Supermarkets is a Texas-based, family-owned grocery chain with stores in 30 markets across north and west Texas. A self-distributing company with its headquarters in Lubbock and distribution centers in Lubbock and Roanoke, United currently operates 51 stores under four distinct formats: United Supermarkets, Market Street, Amigos United and United Express.