Topco Promotes 2 Executives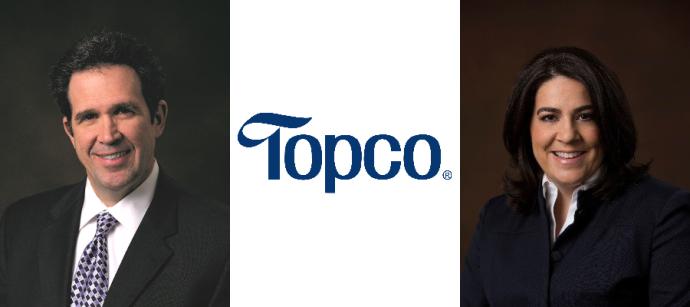 Topco Associates LLC has promoted two executives, appointments the company says further drive its strategic objectives to bring additional value to its retailer and wholesaler members.
Tom Frey, senior vice president and chief financial officer, has been named executive VP and CFO. In this elevated role, Frey will expand his responsibilities to include oversight of Topco's pharmacy program, health and wellness initiatives and Avantis Technology Partners, a joint venture with the Audit Technology Group (ATG) that combines ATG's transaction data aggregation analytics platform with Topco's category management expertise to provide retailers with on-demand views of vendor performance through a SaaS application known as TradeView Analytics.  
Prior to joining Topco in 2008, Frey served as VP and CFO of Dominick's Finer Foods. Previously, he held a variety of positions with increasing responsibility with McCain Foods USA, Deluxe Video Services Inc., The Quaker Oats Co. and Ernst & Young.
Christine Heffernan, VP of center store, has been promoted to senior VP of center store. Over the past few years, Heffernan has made a remarkable impact on the business, including building a new sourcing and category model for the center store team and the successful launch of one of Topco's strategic brands, Simply Done. In addition to these significant accomplishments, Heffernan's role has expanded to managing Topco's member services department, warehouse operations, logistics and shopper insights.

Heffernan joined Topco in 2002 as part of the merger with Shurfine International. She was named program director in 2008, business unit lead for center store in 2014 and VP of center store in 2016. Prior to joining Topco, Heffernan held several leadership positions at Shurfine International, including director of member services.
"These two well-deserved promotions will allow Topco to further drive our strategic business objectives as we continue to expand our platform to provide products and services to help our member-owners thrive in the changing grocery industry.  With Tom and Christine's extensive experience and combined industry knowledge, we are well positioned to partner for growth and deliver further savings across Topco programs," said Randy Skoda, Topco's president and CEO.
"In addition, both individuals have taken on initiatives that have been instrumental in advancing our strategic priorities to the membership. I am confident, that under Tom's and Christine's leadership, these additional responsibilities will continue to build stronger collaboration and alignment across our business, advancing our mission to bring additional value to Topco's membership."

Elk Grove Village, Ill.-based Topco Associates LLC is an almost $14 billion, privately held company that provides aggregation, innovation and knowledge management solutions for its leading food industry member-owners and customers, including grocery retailers, wholesalers and foodservice companies.