09/11/2010
Tesco: There's an App for That
U.K. grocery chain Tesco has launched its first ever shopping app for iPhone, which joins the family of other successful Tesco apps, including its Clubcard and the Winefinder, which together have now reached over one million downloads and can be found on Tesco's newly launched Mobile Apps portal (www.tesco.com/apps).
"We're always looking for ways to make life easier for customers," said Laura Wade-Gery, CEO for tesco.com. "The iPhone App creates a fantastic new way to shop with tesco.com whenever you want, whether you're adding last minute essentials or starting a new order."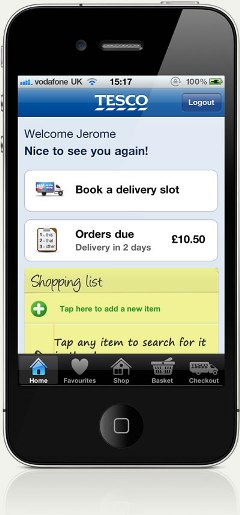 The App, which is available for free download at the Apple iTunes Store, was designed to enable consumers to "shop on the go." Customers who have registered with tesco.com can use the downloaded App to access their home store's product range and their "Favorites" -- items purchased online or from a Tesco store using a Clubcard. They can also and add forgotten items to their basket, or start a new order from scratch, then checking out securely on the phone or later online. The updated order synchronizes seamlessly from phone to computer and vice versa, according to Tesco.
U.K.-based mobile specialists Ribot designed and developed the new Tesco App. "User experience is so critical to the success of apps like these," said Antony Ribot, co-founder of Ribot. "The functionality can be great, but if you fail on experience, you've failed full stop."
The grocery App allows customers to:
• Add/remove products from an existing order
• Login to their grocery account
• Browse Favorites
• Book a delivery slot
• Search for and add products
• Browse for products by department, shelves, or aisles.
• Display nutritional and storage info for products (not available for all products)
• Seamlessly integrate their mobile grocery shopping with the same order on a computer
• Checkout via their mobile or online
Tesco operates 1,779 stores across Europe and Asia.