Tasteful Selections Launching Potato Sweepstakes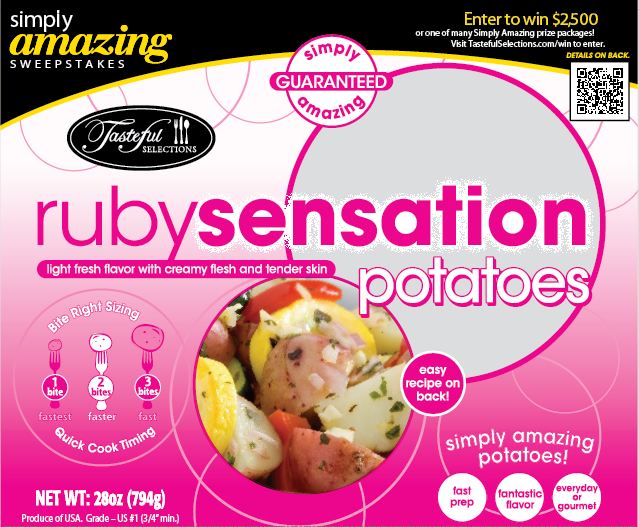 RPE will sponsor the Tasteful Selections Simply Amazing Sweepstakes as part of its ongoing efforts to grow the potato category. Running from September through November, the consumer sweepstakes will be featured on the brand's Facebook page.
According to Bancroft, Wis.-based RPE, specialty baby potatoes have been the fastest-growing segment in the potato category over the past few years, with still more potential for growth. The Tasteful Selections line of specialty potatoes is currently carried in more than 8,000 retail locations nationwide.
"The Simply Amazing Sweepstakes is designed to offer consumers a chance to win significant prizes while engaging in a fun way with the Tasteful Selections brand," said RPE president and CEO Russell Wysocki. "As part of our strategic plan, we continue to support our customers with efforts to grow the potato category. This sweepstakes is a great way to engage and connect with the consumer while working toward this goal."
Targeting the core potato consumer, the sweepstakes offers such prizes as $2,500 in cash, a grill package, Kindle Fire Tablets, and tailgating and family-night-out packages. As well as entering to win through the Simply Amazing Sweepstakes app available on Facebook, consumers can gain extra entries by sharing the contest with their friends via social media platforms.
Tasteful Selections will support the sweepstakes with messaging on its Signature Honey Gold and Ruby Sensation bags, as well as by in-store signage, social media, coupons and ads. RPE will also run a display contest to motivate and reward stores taking part in the program.
The Tasteful Selections offers ready-to-cook convenience: The potatoes are thin-skinned and pre-washed, and their "bite right" sizing results in easy, quick and consistent cooking. RPE, a second-generation family farm, is a category leader and key grower/shipper of year-round potatoes and onions.