Supermarket Promotion: Never a Stray Moment for Anheuser-Busch, Dierbergs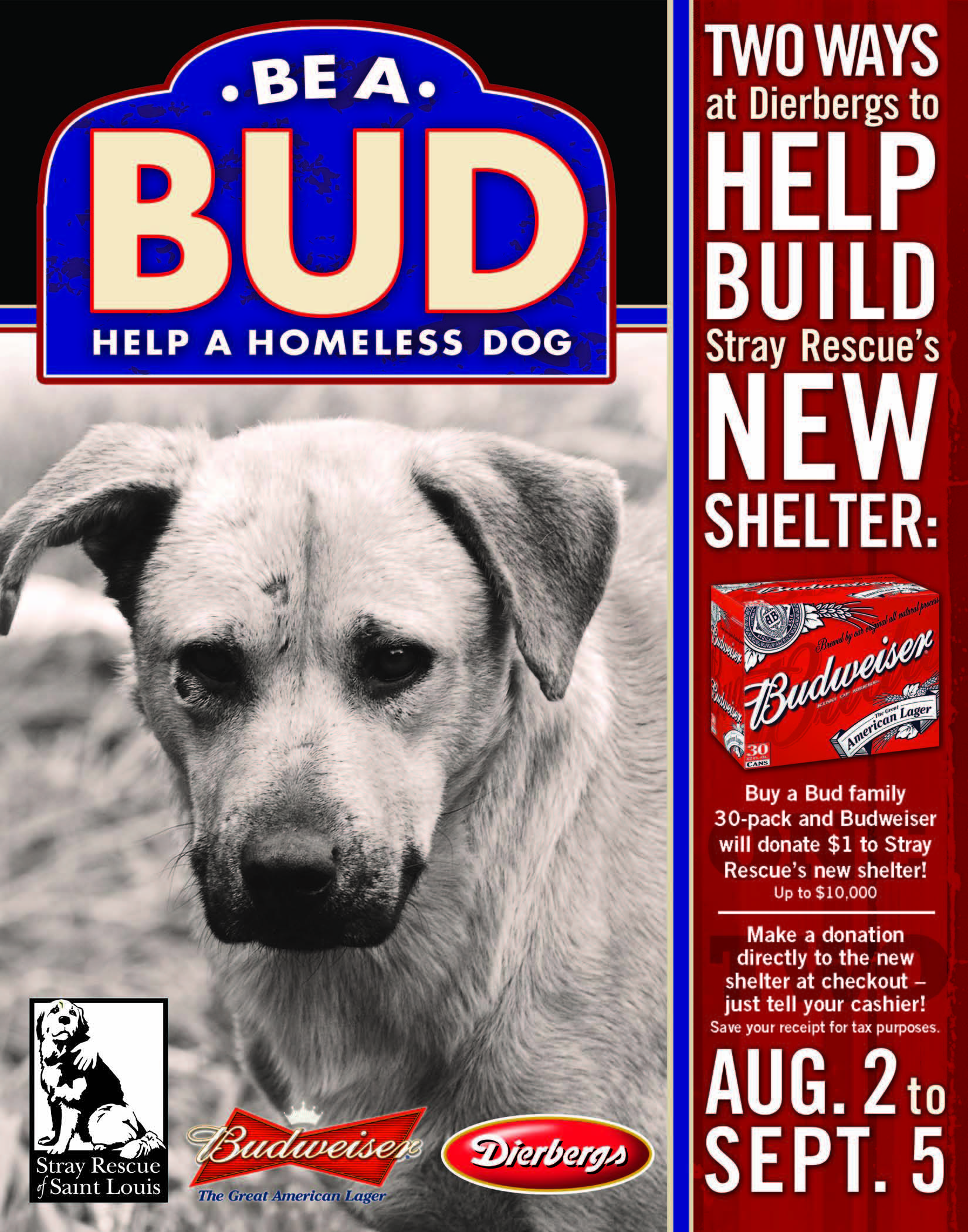 Every dog really could have his day -- or at least every homeless dog in St. Louis -- thanks to an initiative rolled out by hometown companies Anheuser-Busch and Dierbergs Markets that ran Aug. 2 through Sept. 5. Funds raised through the "Be a Bud -- Help a Homeless Dog" program went to support local nonprofit organization Stray Rescue's new Companion Animal Center on Pine Street, which finds homes for rescued pets.
When shoppers bought any Budweiser brand 30-pack at any Dierbergs, Budweiser donated $1 to the center, up to $10,000. Dierbergs customers could also make donations directly to the center at any of the supermarket chain's checkouts. Shoppers who made these donations using the program's tear pads received receipts for tax purposes. One hundred percent of donations went directly to Stray Rescue.
Specifically, contributions from Be a Bud will finance the building of a "dog apartment" – a living area at the center where a rescued dog can live comfortably until a permanent home is available.
"This program and the support of Dierbergs and Anheuser-Busch couldn't have come at a better time," said Randy Grim, founder of Stray Rescue, which maintains a no-kill policy and has rescued 950 strays in the first half of 2010. "We continue making critical improvements to the new shelter and transitioning dogs from City Animal Control on Gasconade. When that's complete, the new shelter will begin housing dogs rescued from the streets. The Be a Bud program puts us one step closer to our goal."
Anheuser-Busch and Dierbergs joined Stray Rescue and the City Health Department in encouraging other businesses and individuals in the community to help Stray Rescue raise additional funds needed to complete the Pine Street center, which will help provide important animal care and control services to St. Louis.