Stop & Shop Wins Sidney Farber Medical Research Award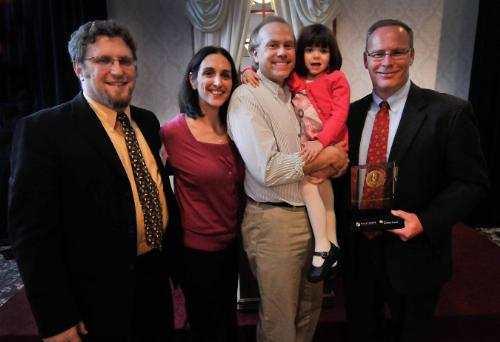 Stop & Shop has received the 2010 Sidney Farber Medical Research Award, Dana-Farber Cancer Institute's most prestigious accolade, for the Quincy, Mass.-based food retailer's 20-year partnership with the organization. To date, the grocer and the institute have raised more than $50 million for Dana-Farber and the Jimmy Fund, through Stop & Shop's annual Triple Winner Game.
Since it began in 1991, the Triple Winner Game has funded the Stop & Shop Family Pediatric Brain Tumor Clinic at Dana-Farber, a principal teaching affiliate of the Harvard Medical School and among the leading cancer research and care centers in the nation. Last year, the Stop clinic saw more than 100 patients for treatment of newly diagnosed diseases.
The game enables customers to make a $1 contribution to the Jimmy Fund each time they shop, in return for a Triple Winner scratch ticket to receive free store products, coupons, gift cards or cash prizes up to $10,000. Last year, the program raised $3.75 million.
On Oct. 6, Mark McGowan, president for Stop & Shop/New England, accepted the award on behalf of the Ahold USA division from Dr. Lawrence N. Shulman, Dana-Farber's chief medical officer and SVP for medical affairs.
"We know that cancer is a disease that touches so many people," noted McGowan. "We designed the Triple Winner Game as a simple way for our shoppers and associates to get involved and give back."
"Stop & Shop is our longest-standing corporate partner, and the Triple Winner Game has had a tremendous impact on advancing the research, treatments and care for our young patients over the past two decades,"added Shulman.
As well as supporting Dana-Farber, Stop & Shop, which employs more than 59,000 associates and operates stores throughout Massachusetts, Connecticut, Rhode Island, Maine, New Hampshire, New York and New Jersey, raises funds for Memorial Sloan-Kettering and Johns Hopkins hospitals in the area of childhood cancer. Additionally, the chain has also engaged in anti-hunger efforts, and backed educational and support programs for children.