Stop & Shop Holds Forum on Childhood Obesity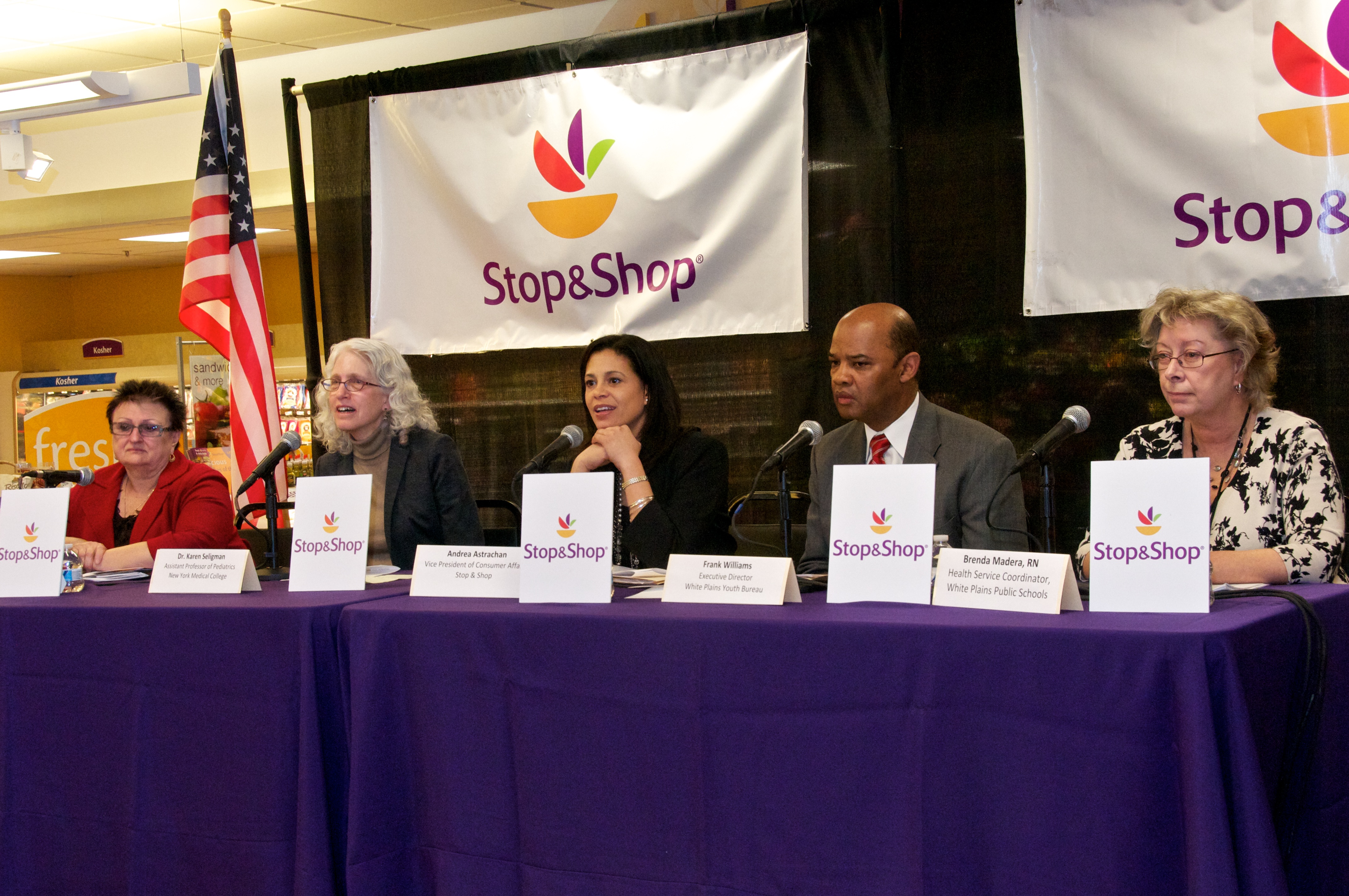 Stop & Shop Supermarket Co. hosted a March 10 community forum at its store on Westchester Avenue in White Plains, N.Y., at which the causes and prevention of childhood obesity were the topics of discussion. An expert panel consisted of Christina Rohatynskyj, executive director, Food Bank of Westchester; Dr. Karen Seligman, head of preventive cardiology and assistant professor of pediatrics at New York Medical College in Valhalla; Andrea Astrachan, Stop & Shop's VP of consumer affairs; Frank Williams, executive director of the White Plains Youth Bureau; and Brenda Madera, RN, health service coordinator, of White Plains Public Schools.
"Child obesity and obesity has exploded in our country in recent years," noted Williams, who also served as forum chairman. "More and more of our children and youth are suffering from the effects of poor nutrition, which result in obesity, diabetes and other diseases. This problem of diabetes is growing rapidly in communities of color. It's time to act to save our youth and encourage a healthy lifestyle."
Seligman stressed that a nutritious diet and regular exercise should be adopted early in life to avoid later health problems. "Eating real food that does not have too much sugar, salt or saturated fat is important for the whole family to remain free of chronic diseases," she said. "It is easier to grow up enjoying the right foods than to have to start to make changes later. This is also true for physical activity and exercise. As kids get older and make their own choices, they need to know what they are eating and understand the effect that it has on their bodies. Instead of allowing adult health problems to move into the childhood and teen years, we want to create a future of healthy adults."
Supermarkets are on the front lines in the battle of the bulge, admitted Astrachan."Healthy eating habits begin in childhood, so it's important for parents, teachers and the community to work together in helping children learn to eat healthy," she observed. "At Stop & Shop, we readily accept the challenge to help combat childhood obesity in our local communities because the supermarket plays an important role in providing a variety of healthful food choices, and because millions of customers shop our stores weekly, we have a unique opportunity to help families right where food purchasing decisions are made."
Rohatynskyj raised the interesting point that "[h]unger and food insecurity result in poor nutrition, which can lead to obesity and other nutrition related diseases." To address this problem, the Food Bank for Westchester is involved in programs to boost fresh food consumption and instill the habit of eating fresh foods in youngsters, she said, adding that the organization acquired shelf-stable foods that were minimally processed and low in fats, salt, sugar and other additives.
School districts are doing their part to alleviate the problem, according to Madera."There are social, cultural and home issues that need to be focused upon to help parents improve their children's diets and ensure their future health," she noted. "In the long run these measures will also decrease the cost of health care spending on chronic illnesses such as diabetes and high blood pressure."
According to the Atlanta-based Centers for Disease Control (CDC) childhood obesity has more than tripled over the past three decades.
An Ahold USA company, Quincy, Mass.-based Stop & Shop employs nearly 62,000 associates and operates in more than 390 stores throughout Massachusetts, Connecticut, Rhode Island, New Hampshire, New York, and New Jersey.