Stop & Shop Expands Availability of SCAN IT! Mobile App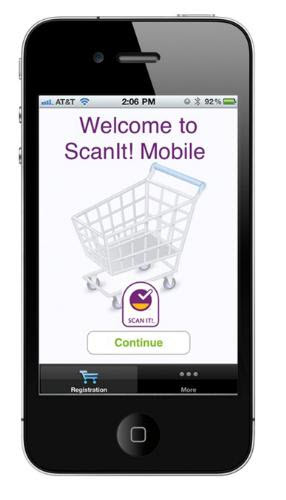 The Stop & Shop Supermarket Co. LLC has broadened the availability of SCAN IT! Mobile, an innovative grocery app that enables customers to use personal mobile devices to scan, tally and bag their groceries as they shop.
First rolled out in June for iPhone 3GS and 4G in three stores, the app is now also available for many Android devices, thereby doubling the reach of customers. Additionally, the pilot will expand to 42 more Stop & Shop stores in Massachusetts, Rhode Island and Connecticut.
A natural transition from the in-store handheld SCAN IT! device currently used at 350 Stop & Shop location, SCAN IT! Mobile gives customers a fully integrated in-store mobile experience in which they can scan, tally and bag their groceries. The app also provides personalized, relevant and specific offers to shoppers based on their location in-store and purchase history. Customers can reap potential savings of $250-$500 annually, based upon receiving eight to 10 targeted coupons on each shopping trip.
Expanding the availability of the app was a no-brainer "given the positive feedback we've received from customers that have used SCAN IT! Mobile and enjoy the ability to shop and scan with their smartphone," said Mark McGowan, president, Stop & Shop New England division in Quincy, Mass. "From quick convenience trips to full grocery shops, SCAN IT! Mobile allows customers to scan their own items, bag as they go, and see a running total of their purchases, making the shopping experience even more valuable for our on-the-go customers."
The expansion makes the app currently available in an additional 19 stores, with 23 more to be added in the coming weeks. By the end of this year, 45 Stop & Shop supermarkets will be up and running with SCAN IT! Mobile. Stop & Shop will continue to evaluate timing to roll out the app at more stores across the chain in 2012.
The grocer advises customers to check the model of their Android devices to ensure compatibility for the SCAN IT! Mobile app, which can be accessed on the following Android 2.2 devices: Nexus One, Motorola Droid1, Samsung Galaxy and HTC Thunderbolt 4G.
Shoppers can download the app free at stopandshop.com/scanitmobile, the Apple App Store or the Android Market.
The app software was developed by Stop & Shop and Modiv Media, a mobile marketing solutions company also based in Quincy.
A division of Ahold USA, Stop & Shop employs about 62,000 associates and operates almost 400 stores in Massachusetts, Connecticut, Rhode Island, New Hampshire, New York, and New Jersey.