Steve Smith Turns Over a New Leaf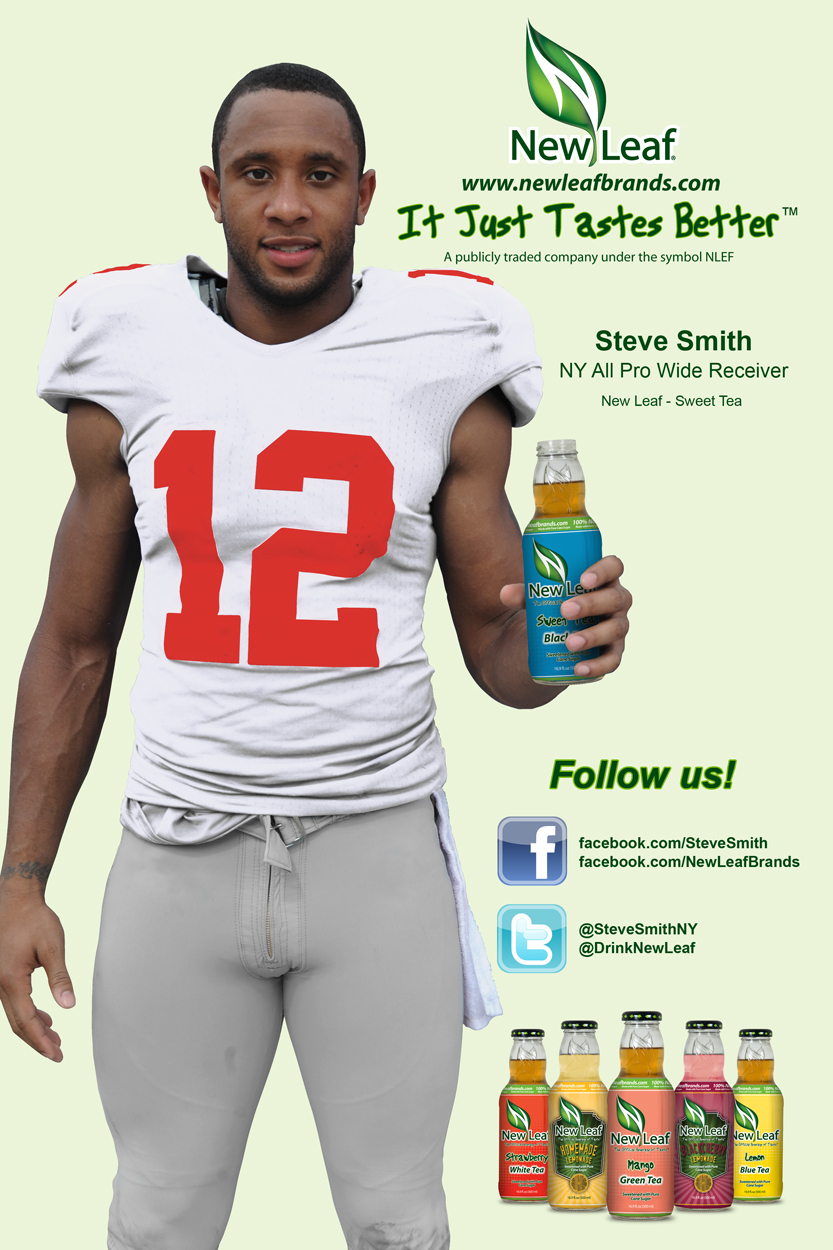 Steve Smith, Pro Bowl wide receiver for the New York Giants, has inked a multiseason endorsement agreement with New Leaf ready-to-drink tea. With the agreement, which will last at least through the end of next season, Smith not only tackles the role of the up-and-coming brand's first celebrity spokesman, he also becomes a shareholder in the Orangeburg, N.Y.-based company.
Smith first tasted one of the brand's beverages at a promotional signing appearance last year, and promptly became a fan. His management team subsequently got in touch with New Leaf to find out about getting a steady supply of product and possibly teaming up. New Leaf was equally enthusiastic, and a partnership was born.
"Steve Smith is exactly the type of athlete we want endorsing New Leaf," noted New Leaf CEO Eric Skae of the Los Angeles native who joined the Giants in 2007 after an illustrious college career, and has since gone on to break the single-season record for receptions as a pro. "He excels on the field and is relatable off the field, where he is extremely active with his fans in social media and heavily involved in various charitable organizations, including March of Dimes, Joe Girardi's Catch 25 Foundation for Alzheimer's research, and the Chelsea Piers Scholarship Fund. He came to New Leaf to discuss potential opportunities, because 'It Just Tastes Better'. From a business perspective, his bicoastal appeal will certainly help drive New Leaf in the top two markets in the U.S."
"I have been a life-long fan of iced tea," added Smith. "When I go out to dinner, or I am just hanging around the house, it's my go-to beverage. When I tried New Leaf iced tea last year, I was hooked immediately. Recently, I had the opportunity to try their line of lemonades and am now a big fan of them as well. I feel humbled and excited to endorse a product that I not only believe in, but use in my daily life."
New Leaf Brands come in 11 unique tea flavors sweetened with 100 percent organic cane sugar, four lemonades made with 6 percent to 10 percent real fruit juice and sweetened with 100 percent organic cane sugar, and two diet iced teas sweetened with Splenda.