State Assoc. Execs Fong, Drumm Honored for Industry Outreach
Get great content like this right in your inbox.
Subscribe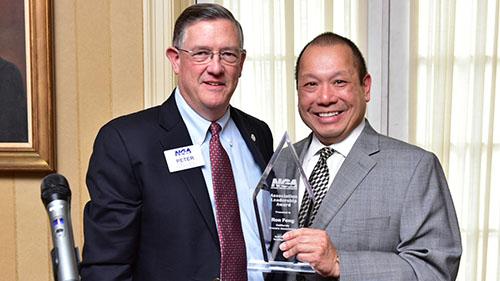 The National Grocers Association (NGA) presented Ronald Fong, California Grocers Association (CGA) President and CEO, with its Association Leadership Award for his commitment and service to the independent supermarket industry. Additionally, the Food Marketing Institute (FMI) honored Amy Drumm, vice president of government affairs for the Michigan Retailers Association with FMI's Donald H. MacManus Award for extraordinary leadership in public affairs, industry relations and community relations. Both awards were presented during the industry's Capitol Hill fly-in event, Day in Washington.
Presenting the award to Fong, NGA's President and CEO Peter Larkin said, "On behalf of the independent supermarket industry, I am pleased to honor and recognize Ron for his talent and dedication for the independent supermarket industry. Ron has been a passionate and enthusiastic industry leader throughout his career in his government relations work and successfully helping CGA to grow its membership."
Fong, who has served as president and CEO of CGA since 2008, worked to defeat California's Proposition 37, the mandatory GMO labeling for grocery retail, as well as the passage of SB 270, the first statewide plastic bag ban. And, most notably, he successfully navigated the merger of the California Independent Grocers Association into CGA while ensuring that a strong voice for the state's independent operators would be maintained.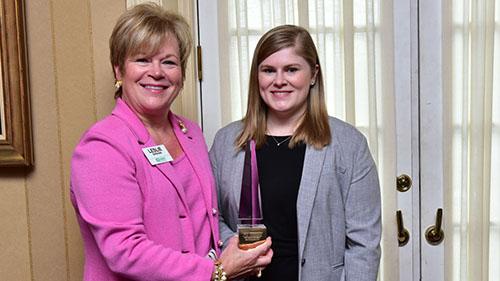 FMI President and CEO Leslie G. Sarasin commented on Drumm's commitment saying, "Amy's 'just-knuckle-down-and-do-it' attitude helped her state become a national leader, by passing our country's first-ever law preempting local excise taxes or fees on the manufacturing, distribution, or sale of all food and beverages – both for immediate and non-immediate consumption. Public Act 135 of 2017 went into effect in October."
Among her industry advocacy efforts, Drumm oversees the Michigan Retail Association's Political Action Committee; serves as Treasurer for Retailers Insurance Company; and serves as the current chairwoman of the Michigan Recycling Partnership, an industry group formed to identify comprehensive recycling solutions. She also has worked to preempt local wage and benefit ordinances as well as plastic bag bans and taxes. Drumm also played a pivotal role in the 2014 passage of Main Street Fairness legislation, elimination of the Personal Property Tax for retailers with $80,000 or less in personal property; proposed sales tax increases, adoption of anti-competitive measures, and limitations on Supplemental Nutrition Assistance Program food purchases.