St. Joseph Aspirin Relaunched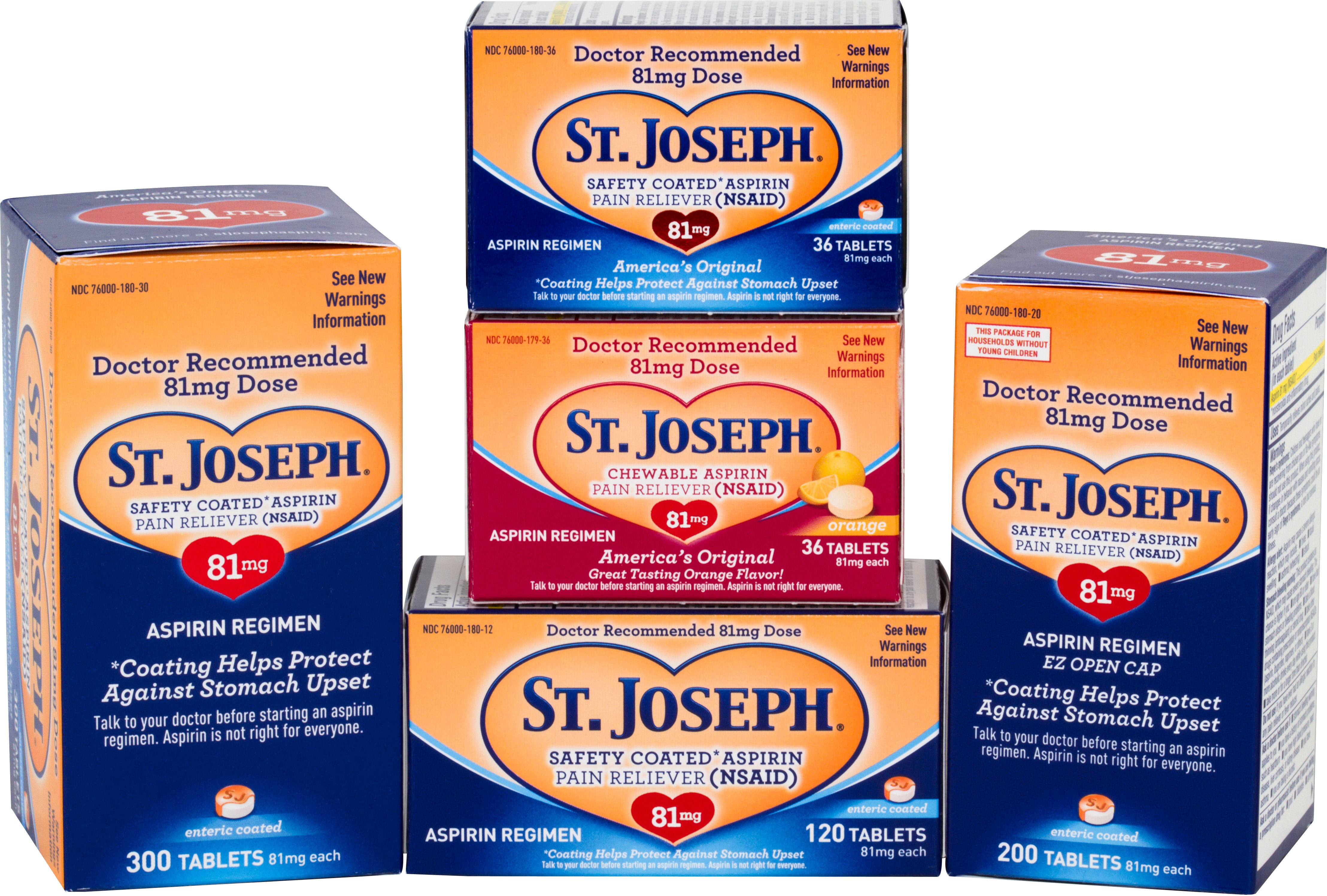 St. Joseph Aspirin, a low-dose aspirin recalled by baby boomers as a trusted product, is reappearing on store shelves with product, packaging and retail enhancements. Once used as a baby aspirin, the item can be part of a doctor-recommended daily low-dose aspirin regimen that may help lower the risk of heart attack and stroke.
Baltimore-based ILEX Consumer Products Group, which bought the iconic brand from its previous owners in January, is behind the improvements and relaunch. The new packaging enables the 200- and 300-count sizes to be merchandised either in a traditional horizontal position or a new vertical position. The latter display option decreases the shelf imprint by almost half, which boosts the potential sales per linear foot, according to ILEX.
The revamped packaging also now features a high-varnish finish and foil printing to help create shelf interruption. Additionally, bottle product counts have been changed to 36, 120, 200 and 300, from 36, 100, 180 and 300, to make it easier for consumers to compare. All count sizes have been repriced to provide significant shopper value over the previous products, while label copy notes the need for at-risk consumers to engage in an aspirin regimen.
"We didn't want to just rely on the equity of the St. Joseph brand to bring lapsed and new users of low-dose aspirin to the aisle," explained ILEX EVP of sales and marketing Bernie Kropfelder. "We spoke to a lot of retailers and consumers before deciding which improvements could best enhance retailer margins while also offering a better value to consumers. It's best when you can create incremental value for both the consumer and the retailer."
Retaining the familiar orange-colored pills that have been synonymous with St. Joseph for nearly 100 years, the brand has added a new embossed enteric-safety coated pill along with a chewable-pill option that preserves the expected orange flavor. The safety-coated option is for those with sensitive stomachs, and the chewable option also remains for consumers who are unable to swallow pills or are potentially suffering from acute symptoms and need their medication to take effect more quickly.
The redesigned bottle has a convenient, easy-to-use push-and-turn child-resistant cap instead of the previous "line-up-the-arrows-style" cap, which many consumers complained was too hard to open. The 200-count size also will come with an EZ-open cap as an added feature.
To publicize the changes, the campaign includes TV spots, consumer and trade print ads, public relations, and social media outreach debuting through the spring and summer. St. Joseph additionally will offer several merchandising vehicles to help retailers spotlight the brand during the relaunch. Further, a professional sampling program will roll out to encourage consumption via doctor and cardiologist referrals.