Spartan Helps Give Home State a Boost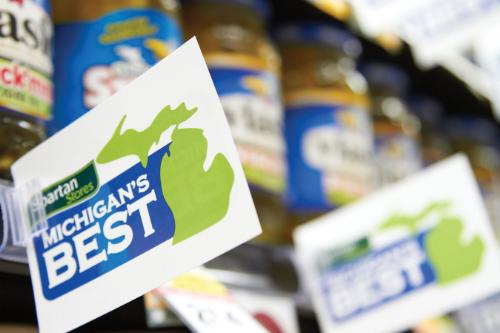 While Michigan has historically been known for its automobile and furniture manufacturing, the state also is one of the country's leading producers of apples, cherries, asparagus, potatoes, blueberries, baby food, cereal and baked goods.
It is this connection to the food industry that Grand Rapids, Mich.-based Spartan Stores is building upon to help stimulate the state's economy. Spartan Stores has kicked off its expanded Michigan's Best campaign in its 97 D&W Fresh Market, Family Fare, Glen's Markets and VG's stores, as well as 250 independent grocery stores. More than 3,000 Michigan-made products will carry the Michigan's Best label to help consumers quickly identify home-state products.
Launched in 2009, the campaign has had a significant impact on the state's economy, said Alan Hartline, Spartan's EVP of merchandising and marketing. "We have been delighted at consumer response of our Michigan's Best campaign, which affords consumer the ability to support our state economy. It also benefits communities by boosting the local and state economy by creating more jobs. Plus, buying local fresh fruits and vegetables picked within hours of being on the shelf is a healthier option. Local products also have lower food miles, meaning they are shipped shorter distances, which requires less gas and is better for the environment."
The initial campaign promoted 2,400 products grown and produced by 42 businesses and farms in Michigan. According to the Michigan Department of Agriculture, if consumers spent $10 a week on Michigan products, it would keep more than $40 million working for Michigan every week.
"In a state where one in every four jobs is supported by agriculture, the more products Michigan farmers sell, the better it is for our entire economy," said U.S. Sen. Debbie Stabenow, who chairs the Senate's Committee on Agriculture, Nutrition and Forestry. "When we make it and grow it in Michigan, the jobs stay in Michigan. Spartan Stores' Michigan's Best campaign is a terrific way to promote home-grown products and create Michigan jobs."
A complete list of products and Michigan-based farms and companies can be found at shopmichigansbest.com. Spartan Stores also plans to host a number of in-store promotions, including signage, weekly specials featuring Michigan-made products and a children's coloring contest.
Spartan's Michigan's Best campaign was honored with the National Grocers Association Creative Choice Advertising Award for 2010 Best Advertising Campaign.
Spartan Stores Inc. distributes more than 40,000 corporate and national brand products to approximately 375 independent grocery stores in Michigan, Indiana and Ohio, and to 97 corporate owned stores located in Michigan.