10/22/2018
Snacking, Meal Solutions Among Highlights at PMA Fresh Summit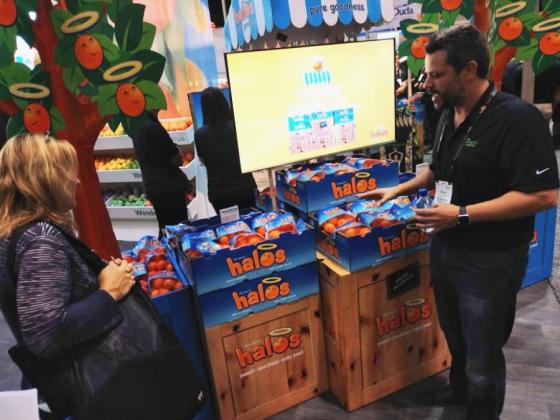 It's a testament to the power of fresh that the innovation isn't letting up in the perimeter.
That was certainly evident among exhibitors I visited during the Produce Marketing Association's Fresh Summit conference and expo last week in Orlando, Fla.
Suppliers are focused on solutions for consumers' every need, from daily meals to snacks to specific dietary demands. There were plenty of great examples at the summit – here's my attempt to scratch the surface: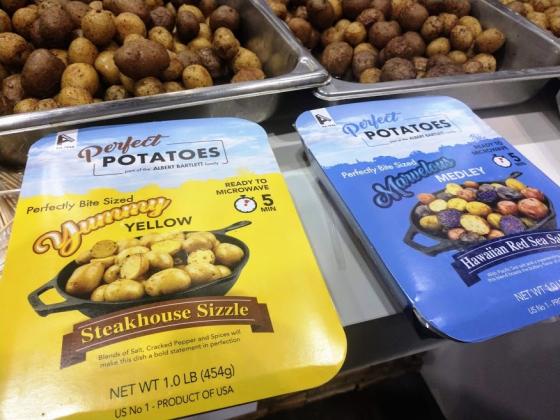 Side Solutions
Minnesota-based Robinson Fresh launched Perfect Potatoes, a line of seasoned, microwaveable mini potatoes that addresses consumers' desire for convenience, self-preparation and smaller portions than historically available in a sack of spuds.
Robinson's Michael Pastagnetto told me that while russet and red potatoes still dominate the market, their volume is dropping, while specialty varieties like fingerlings are growing. "We think potatoes have to do the same thing as apples," he said, referring to the explosion of designer varieties of the popular fruit.
Meanwhile, The Little Potato Co., based in Canada, updated the packaging and added two new varieties to its line of creamer potatoes – three in plastic trays ready for 5-minute prep in the microwave, and three more in foil trays for 30-minute prep in the oven or on the grill.
Little Potato's Richard Vann concurred that while the overall potato category is declining, creamers are "on fire." Progressive Grocer agrees potatoes that are prewashed, come with seasoning and are ready to cook are right on trend. Little Potato is leveraging that through cross-promotions that include placements in the meat department and even at checkout.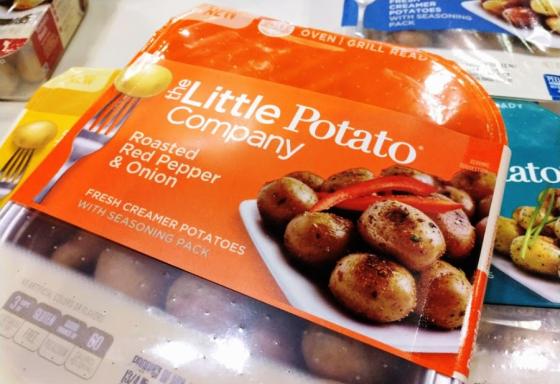 Snack Solutions
The combining of fruit and vegetables with nuts, cheese and other snack bites continues to gain traction. One grower that excels at leveraging this trend is California's Naturipe, which displayed several of its popular snacking concepts at the summit.
Naturipe reports growing distribution for its snack line, which includes 5-ounce ready-to-eat fruit cups, complete with handy plastic fork; snack boxes with several combinations of fruit, cheese and nuts; and fruit bites featuring blueberries solo and with grapes.
With a network that now includes four Fair Trade Certified farms, Naturipe is touting its Fair Trade blueberries and is working on more sustainable packaging.
I was excited by the squeeze pouches from Wana Bana, filled with delicious, snackable purees made of fruit and nothing else. The brand's Catherine Vieira told me the fruit – hand-pollinated and grown using natural pesticides – is processed very close to where it's harvested in Ecuador.
Officially launching at Fresh Summit, Wana Bana has been in the U.S. since July, at stores in the Miami and Los Angeles areas. With flavors like Banana & Strawberry, Mango and Banana & Passion Fruit, it also has a great brand story; the company provides employment to women and single mothers in its growing region.
Continuing to grow by leaps and bounds as a snacking solution is SunGold yellow kiwifruit from New Zealand's Zespri. Enjoying year-over-year sales growth topping 30 percent, the brand works closely with grocery retailers to create strategic displays to drive incremental growth in the produce section.
Zespri stresses the health benefits and convenience of the spoonable fruit, as well as its sweetness and readiness to eat upon harvest compared to green kiwis.
The Wonderful Co. unveiled a new retail merchandiser as a produce department destination for its popular Halos mandarins as part of a new $30 million marketing campaign that's rolling out through May.
"Retailers see the advantage and are doubling down on Halos," Los Angeles-based Wonderful's Adam Cooper told me. "Mandarins are driving all the growth in citrus."
Wonderful also displayed its pistachios, including a new line of raw pistachios as well as it no-shells range, with new flavors coming in 2019.
Also a tasty change of pace with a satisfying crunch were new snack mixes from North Carolina-based Truly Good Foods: Key Lime Crunch and Buffalo Stampede, each with a unique blend of seasoned nuts, seeds and dried fruits.
Salad Solutions
Dole's booth at Fresh Summit boldly displayed the California-based company's new corporate logo, launched last week, featuring a green leaf outline for a stronger link to the earth. Meanwhile, its prowess in salads was demonstrated by its new Slawesome coleslaw kits as well as its Spinach Miso Crunch salad.
The new products come amid Dole's latest campaign with the Walt Disney Co., with whom the grower is about halfway through a four-year partnership. They're not focusing on the 90th anniversary of Mickey Mouse, via packaging, digital and PR, along with a series of recipes harkening back to each decade of Mickey's life but updated for the taste and health demands of current times.
I was impressed with the Organicville line of salad dressings from Virginia-based Sky Valley Foods, whose goal was to create dressings suitable for use with top-selling organic salads at a reasonable price point ($3.99 a bottle).
The dressings are organic, gluten-free, non-GMO and vegan, in seven varieties: Olive Oil and Balsamic, Greek, Sun Dried Tomato and Garlic, Herbs de Provence, French, Blood Orange and White Balsamic.
Meanwhile, California-based Follow Your Heart displayed its line of vegan dressings and cheeses, including a tangy coleslaw dressing that was one of Progressive Grocer's 2018 Editors' Picks.
Not quite salad but certainly an ingredient solution was the fresh herbs from Shenandoah Growers, which launched a line of herb purees at the summit, blended with organic olive oil, including Italian herbs, basil, dill, garlic, ginger and cilantro.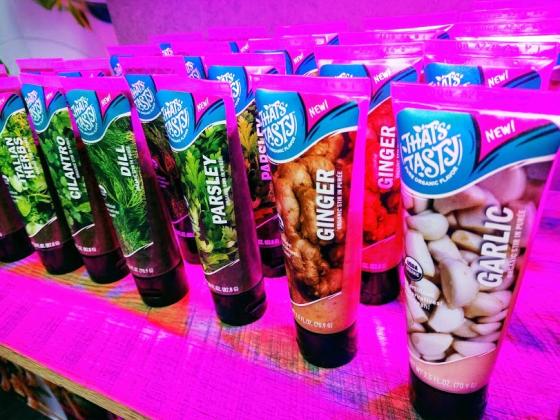 Destinations and Declarations
Spain's Zumex Group demo'd its self-serve fresh-squeezed juice concept designed for grocery stores, intended as a shopper destination to help drive traffic.
Canada's Mastronardi Produce announced its new partnership with U.K.-based Berry World as the exclusive supplier of its Wow Berries varieties to North America, greenhouse grown for consistent supply. Mastronardi, which sells products under the Sunset brand, also displayed its IncREDible Tomato, designed to be a large thick slice like a beefsteak tomato; Shazam Shishito peppers, which are easy to roast or broil and are mostly mild, though I was told about 1 in 10 have some heat; and Sugar Bombs, grape tomatoes on the vine, very sweet with a smooth finish.
Arizona-based Divine Flavor touted its hydroponic Magnificos as the "sweetest grape tomato out there," along with mini sweet peppers and cotton candy grapes.
"We consider ourselves an innovation company," Divine's Carlos Bon told me, noting a recent logo and packaging revamp at the family-owned brand. "Produce should be fun."
A cranberry grower since 1934, Massachusetts-based Decas Farms is just this year starting to use the Decas names on retail products, in order to leverage current trends for authenticity and transparency. Decas products include conventional and organic fresh cranberries, baking cranberries and dried cranberries, including ones offering 50 percent less sugar without artificial sweeteners.
Irish company Fyffes (U.S. offices in Florida) was celebrating its 130th anniversary as a supplier of bananas, as well as the largest grower of free-trade melons and owner of the Highline Mushrooms brand.
And the folks at Chestnut Hill Farms extolled the virtues of Costa Rican pineapple, talking up its health benefits including cold prevention due to its natural bromelain. Chestnut Hill is promoting pineapple as a year-round fruit rather than a summertime treat, noting that October is its peak season.