Smart & Final Streamlines Ecommerce With New Mobile App
Get great content like this right in your inbox.
Subscribe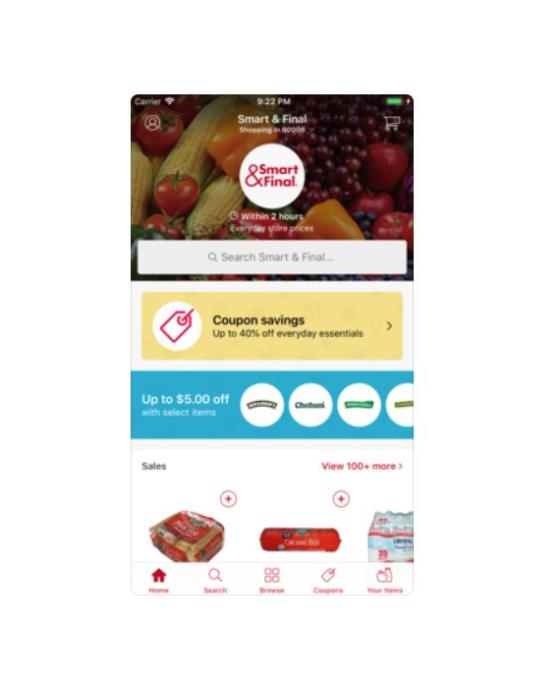 Smart & Final Stores Inc. has launched a new mobile app for its ecommerce business, allowing two-hour-or-less deliveries and powered by third-party grocery delivery service Instacart.
Catering to household, nonprofit and business customers, the neighborhood warehouse grocery store's app provides real-time order-fulfillment updates and connects customers directly with their personal shoppers. Currently available only for iOS platforms, the app includes:
Saved shopping lists, allowing for quick reorders
Group carts, allowing multiple people to add to one cart, streamlining the ordering process for households, events and more
Live chat with personal shoppers, allowing for direct communication throughout the shopping process and real-time changes to orders
Push notifications for order updates, allowing customers to know the current stage of an order and which ones have already been completed, as well as to track delivery
Customers can choose between two-hour delivery for $5.99 or one-hour delivery for $7.99. Delivery rates apply to $35 minimum orders.
"We're always looking to improve the customer experience for both household and business customers," said Smart & Final Chief Marketing Officer Eleanor Hong. "It's important that we adapt to and adopt shopping models that can help Smart & Final customers save time and money on meals both in-store and on the go, without sacrificing taste and quality. The Smart & Final app is the next step to doing just that."
The new app is part of Smart & Final's continuing plan to grow its online grocery business. On a March call to discuss its fourth-quarter and fiscal 2017 earnings, Smart & Final reported small but steady growth in its ecommerce sales. The end of Q4 saw more than 85 percent of Smart & Final banner stores offering either a delivery or a click-and-collect option for online grocery.
"While our research has shown that historically, a large percentage of our online sales are from incremental customers, we expect that this will shift over time to include more existing customers," said President and CEO David Hirz on the call.
As of Dec. 31, 2017, Commerce, Calif.-based Smart & Final Stores Inc. operated 323 grocery and foodservice stores under the Smart & Final, Smart & Final Extra, and Cash & Carry Smart Foodservice banners in California, Oregon, Washington, Arizona, Nevada, Idaho, Montana and Utah, with an additional 15 stores in northwestern Mexico operated through a joint venture.